What is Trendline Trader?
Trendline Trader is an Expert Advisor application designed to initiate trades on the Metatrader 4 platform, only when a price breaks through a trend line drawn by a human trader or any 3rd party robot. It doesn't matter who draws the trendlines as long as they have proper names.
Once the trendlines are identified by Trendline Trader, the application will monitor the market price to detect a breakthrough. If you trade currencies in the Forex market using trendlines, then this is a must have application. Imagine the free time you will get while Trendline Trader works 24 hours a day non-stop. The beauty of it is that this EA allows you to decide how your trendlines should be drawn, what time frame and currency pair you use and what trade settings you operate with. You have complete control over your trend line trading and this application will be your sidekick to do the work for you while you enjoy your life.
This EA is designed for the Metatrader 4 platform and can be used with any Forex broker, any MT4 account and any currency pair.
Learn trend trading strategies from Mike Ser
Why you need Trendline Trader
With Trendline Trader you won't have to be in front of your computer screen all day. Just draw a trend line on the chart, set up EA with your desired settings and enjoy your day. This EA can handle an unlimited number of MT4 charts with two trend lines on each; one trend line to initiate buy trades and the other for sell trades. You have the freedom to set the stop and profit levels by using additional horizontal lines or set them to a fixed size in pips. Trendline Trader EA has a revolutionary Smart Breakout technology built in to help you avoid false breakouts by automatically adjusting the trendlines.
Trendline Trader is the perfect solution to avoid spending your life in front of your computer screen and allows you to have your orders executed automatically when a price breaks through your trend line. What you need to do is just drop a trend line on your MT4 chart and the EA will take care of the rest.
There's no need to calculate the right lot size and stop loss in pips because Trendline Trader will do this automatically before opening a new trade. Forget about false breakouts as this EA will monitor the market and will redraw your trend lines if a false breakout is detected. You can rest assured that no trade will be opened upon a false trendline breakthrough.
If you are a trend trader and you already use trend lines you have probably realised that this is a must have application. If you are just starting to trade Forex, the Trendline Trader will help bring your experience and knowledge to the next level.
Trendline Trader features
EA is designed for Metatrader 4 platform
Can handle two lines: cross from below for BUY signal, the other from above for SELL signal
Sets different line colors when they are detected by EA
Sets different line colors when they are crossed up or down
EA can open trade(s) immediately or only on candle close
Stop Loss and/or TakeProfit can be set by horizontal lines
Trailing Stop and Breakeven functions included
Advanced Money management function

Smart Breakout

technology will redraw trendline if the price only touch it but do not cross
All settings displayed on the chart in the left-top corner
Alert features included from

Trendline Alert EA

Many custom settings can be configured to fit your needs
How to use Trendline Trader EA?
Trendline trader is designed to be used mostly with breakout strategies where you would manually draw trend line on the price chart. EA detects your trend line and monitors the market price 24/7. Once the price touches the line or closes above/below it, EA will open a trade immediately.
Here's a nice list of break out strategies at fxtsp.com you can begin with.
Draw trendline/horizontal line on the chart using Metatrader 4 drawing tools
Open line settings window and set object/line name to BuyLineName or SellLineName
EA will change line(s) color after they are detected. If you draw the line(s) correctly this should happen in a few seconds.
EA will open trade and alert/play-sound/send-email when price cross the line(s)
EA will change crossed line(s) color
EA will open BUY trade when price cross the BuyLineName line
EA will open SELL trade when price cross the SellLineName line
You can draw additional horizontal lines that will tell EA where to place stop loss and/or take profit
Lot Size, Stop Loss, Take Profit and any other settings are controlled by special EA settings which are described below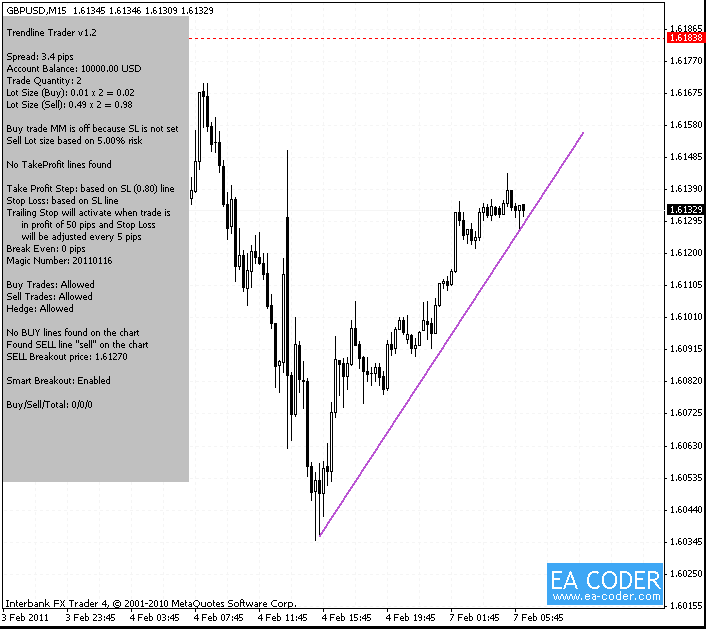 In the above screen shot you can see a trendline that a trader created on the chart. It was named "sell" so the Trendline Trader would recognize it.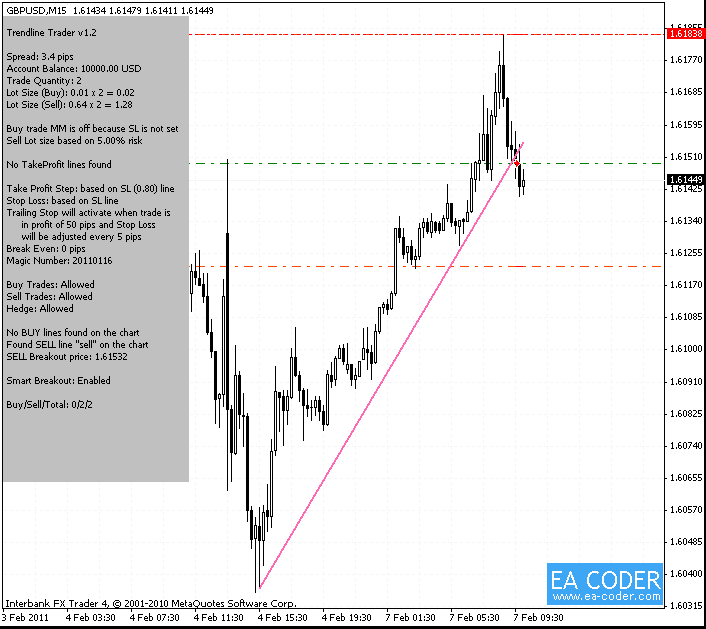 Price broke the trendline and Trendline Trader opens a sell trade. A red line named "sell-sl" price was used as Stop Loss. Take Profit was set 80% of the Stop Loss size. EA opened 2 trades. All this can be configured to fit your needs. Trendline was adjusted by Smart Breakout technology functions to avoid false breakouts.
Price goes down to reach the first Take Profit level and Trailing Stop activates. We already profited from this trade and have one trade running with Trailing Stop to get the maximum profit available.
Now lets see how this would have gone without Smart Breakout technology enabled.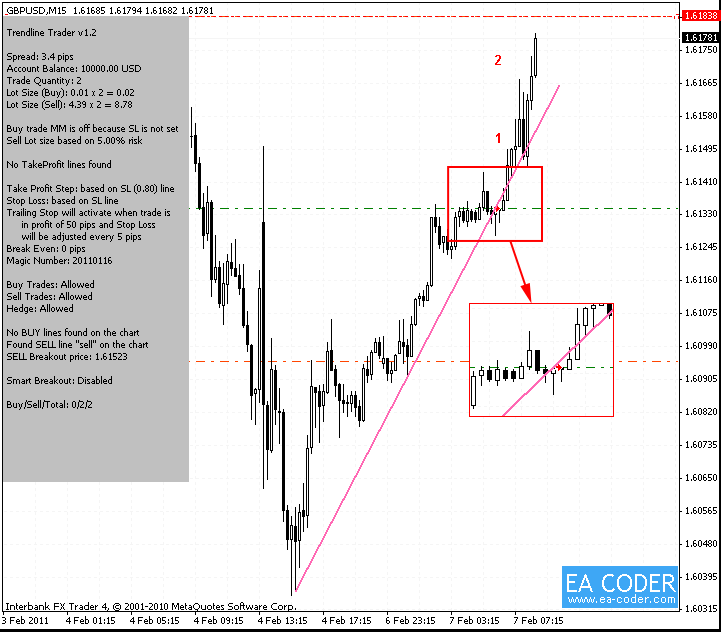 See how price touched trendline and on the next candle it broke the trendline. That was a false breakout, but EA still opens a trade because candle opened on the other side of the trendline. It is clearly seen that trendline could be adjusted to get better entry and that is exactly what Smart Breakout technology would do.
There are no back-testing results available because all of my MT4 Expert Advisors are trading tools that do not work without user intervention and most of them cannot even be used in Strategy Tester because they only do what a human trader tells them to do. All software on my website are build as tools to help you in Forex trading.
Before you make a purchase please read my Purchase Policy.
License information
Personal license works on an unlimited Real MT4 accounts and unlimited Demo MT4 accounts on a single computer/VPS. It means you may install the software on your desktop and notebook computers, but use it only on one computer at the same time. EA is not permanently locked to a computer or MT4 account. You can personally transfer the license to another computer/VPS or MT4 account at any time.
VIP license works on an unlimited number of any Real/Demo MT4 accounts on max 5 computers/VPS at the same time. It means you may install and simultaneously use the software on 5 computers/VPS as long as they belong to you.