What is Local Trade Copier
What is a Local Trade Copier?
The Local Trade Copier (LTC) is a pair of MT4 Expert Advisors which synchronously copy market and pending orders between multiple MT4 accounts when they are located on the same computer or VPS server. The software can be used to duplicate accounts in one-to-one, one-to-many, many-to-one, and many-to-many scenarios, and it gives a lot of options to filter trades, which makes it very useful among account managers and retail traders.
LTC is the first MT4 trade copier software in the industry that can filter trades by indicators and Global Variables. LTC is also capable to filter trades during specified time ranges that you can simply create on a currency chart by drawing a rectangle object.
This software is designed for the Metatrader 4 platform and can be used with any Forex broker, any MT4 account, and any currency pair.
With the Local Trade Copier, you will be able to copy the trades from one Metatrader 4 platform to another as soon as they happen. This is the software that can help you become a great Forex account manager as it can duplicate multiple master accounts to any number of customer accounts.
Why you need a Local Trade Copier?
Your product gives me really nice feature and very stable running.
– Tokihiko Arai, Japan
If you are trading the same strategy on more than one MetaTrader 4 account, then you are wasting your time and efforts. With LTC you can link those accounts and copy all trading actions in a blink of an eye automatically by just trading one main account.
No human can duplicate trades between many accounts faster than the MT4 trade copier software, making this is a must-have tool for anyone who does account managing.
Okay, I know you are probably saying that you are not an account manager and you are just trading for your friends or family. In any way, if you are placing the same trade on more than one account then you are a forex copy trader. And copy trading is best done automatically with the help of software like Local Trade Copier.
Not just Forex account managers can use the LTC software to copy their master MT4 accounts to the MT4 slave accounts of their customers. It can be used by any retail trader, forex trading coach, signal provider, or even Forex broker.
LTC eliminates the need to open the same trade on multiple accounts manually; the trade copier software will do it automatically.
With this trade copier software, you will become an independent account manager.
If you are a Forex account manager, the Local Trade Copier is a must-have software for you or your business. If you are using PAMM services, then a trade copier may not be a better solution, but with this software, you are not locked into a single broker. You can copy trades between multiple MT4 brokers and manage accounts for anyone who has an MT4 account.
If you're a retail-based Forex trader and have investor password access to any MT4 account, then you can copy trades to your MT4 account and have the same trading results. For example, retail traders can copy trades from their signal provider's MT4 account using an investor password. The server EA does not log in directly to MT4, but you can run your provider's master account on your computer or VPS server in read-only mode using an investor password to receive the trades.
Retail Forex traders can use our MT4 trade copier when they find a losing trading system or Forex robot. With the reverse trading mode, you can set the Local Trade Copier to duplicate trades in an opposite direction. In these cases, the losing BUY trade on a master account will be a profitable SELL trade on a slave account. The same goes for losing SELL trades, on a slave account it will be reversed to a BUY trade which will be a profit.
Forex Account Managers may also use these reverse trade copying schemes for customer accounts.
With LTC you can duplicate an unlimited number of MetaTrader 4 accounts from any Forex broker, of any type or account size. Give yourself more free time by trading only your master MT4 accounts, while the trade copier EA will work for you 24/5 on your VPS server, copying trades to your customer accounts.
Don't bother yourself re-calculating lot sizes for the slave trades; our software will do that automatically, following your master account risk percentage and adjusting it to each of the slave account sizes individually. Make use of many of the LTC software features to make your account manager business even more professional.
Local Trade Copier features
Revolutionary MT4 trade copier solution that can filter trades by time using on-screen rectangle objects
Server EA and Client EA work synchronously to copy the trades
Compatible with MetaTrader 4 Build 1000+

Can copy all trades from any number of master account(s) to any number of slave account(s)
Supports "Partial Close" and CloseBy operations
Trades can be copied from any MT4 account including investor password accounts
Master and slave accounts can have a different account balance
Reverse Trades technology will help you turn your losing trading system or EA into a winner
Take Profit and Stop Loss levels can be counter-changed (reversed)
Take Profit and Stop Loss Multiplier technology
You can choose which currency pairs you want to trade and those you want to ignore
EA can copy pending orders as they are, or only when they get triggered on the master account
Pending orders are copied with Expiration value if it exists
LTC does not use the internet and this makes it even faster. It does not depend on any web-service
Can handle different currency pair names between master and slave accounts
Intelligent Error Handling technology
Can copy trades between different Forex brokers
Can copy all trades whether they are triggered manually or by another Expert Advisors
Compatible with all Forex brokers including ECN, DD, 4 and 5 digit brokers
Does not require any additional software
Smart Trade Identification technology
Compatible with all Windows OS versions
Works just as well on VPS as it does on any personal computer
How does this MT4 Copier work?
The purpose of the LTC is to duplicate the same trades from one (or multiple) MT4 accounts (master) to another (or multiple) MT4 accounts (slave). This process is called "Trade Copying" and with the LTC software, you can do this in an easy way completely automatically.
This trade copier contains two Expert Advisors that should be attached to the master and slave MT4 account(s) and they must be online 24/5 in order to copy all the trades. To make the process simple and uninterrupted we recommend using LTC on a VPS server from www.vpsforextrader.com
Once attached to the master account, the application will start sending any upcoming trades to the slave accounts. The Client EA running on the slave account will check for new trades being sent by the Server EA every second, and it will open them as soon as they are received.
All trade settings like take-profit, stop-loss value, and trade expiry time are copied immediately, and all trades are monitored every second, with any trade modifications being applied immediately as well.
LTC will only copy trades between MT4 terminals that run on the same computer or VPS server. There is a simple solution to running multiple MT4 terminals on the same computer and it depends on your hardware as to how many terminals can run at the same time.
If you need to use more terminals in your trade copy campaign, you can simply use additional computers or VPS servers. As you may already know you can run the same MT4 master terminal (which feeds trades to your slave terminals) as many times as you want using an investor (read-only) password. This allows you to have multiple campaigns and to copy trades from the same MT4 master account on multiple computers.
With multiple money-management options, EA makes it really easy to follow the same risk for trade settings or adjust the risk to fit your needs. You don't need to worry if the master and slave account size is not the same because EA will choose the right lot size for each trade to risk the same amount of money on all accounts. You can also set EA to risk more or less, or even use a fixed lot size for each trade.
Your master and slave accounts can have non-standard currency pair names (symbol names) and the trade copy tool will handle that easily. The server EA can remove the suffix from the symbol name and the Client EA can add a suffix when it's required.
You can also create a special symbol conversion table and store it in a file that allows the LTC application to convert between different symbol names according to your list.
Minimum System Requirements
Windows 2000 / XP / Vista / 7
1.0 GHz or faster CPU
512 MB RAM (1GB recommended)
Local Trade Copier example on MT4 account
In the screenshot below You can see the 2 MetaTrader accounts running on the same computer.
The first MT4 account will act as the master account (it can be an investor read-only account as well) and the second one is the MT4 account that will act as a slave.
You can have multiple masters and multiple slave accounts running on the same computer/VPS to duplicate the trades at the same time.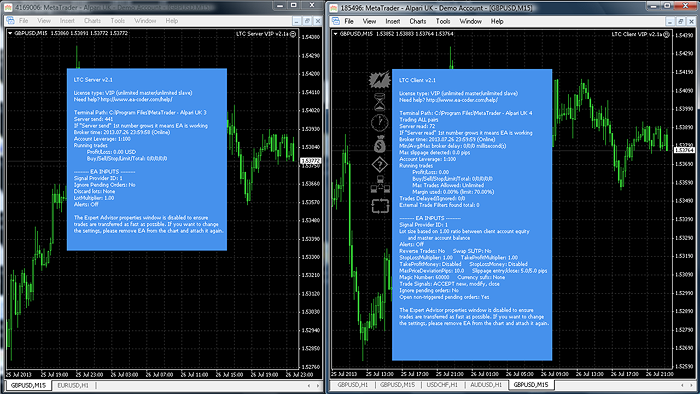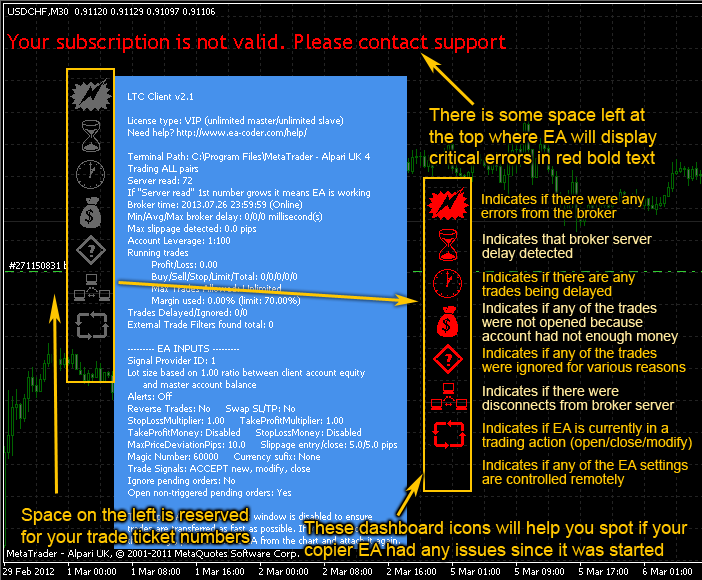 On the above screenshot, you can see the new Local Trade Copier EA Dashboard with the icons.
When the dashboard icons are gray they are inactive. When they turn red it means they indicate something like "trades delayed by broker" or "not enough money". A detailed explanation is available in the instruction manual.