Vavatrade Daily-F Trading Robot Lot Size Changes for Master MetaTrader 4 Account
Recently I have shared with you my story about the impossible AUDUSD trade that was replicated into my real money Vavatrade account as a market order and that was supposed to be a pending order.
This explains the discrepancy of the gains posted for January 2014 between my master Vavatrade MT4 account and my real money account.
However, my customers also keep asking me why other months show different gains in terms of percentage.  Let me explain that in this blog post.
Here are 2 images that help explain what I mean.
Below is my master MT4 demo account where I generate trades and send them to my customers.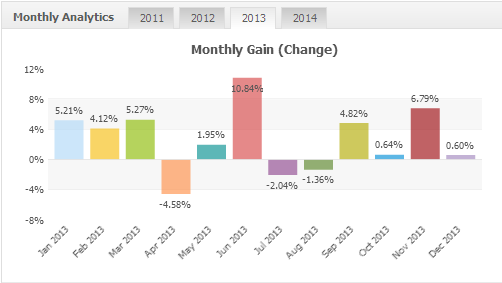 Note: Before you ask me why it is on a demo account, let me first tell you that I will share this interesting story with you in an eBook that I am working on right now.  This new digital book is a story how I was able to start my own trading signals service and make money in Forex, starting with a demo trading account. You will be able to learn how to do this also after reading my book.
Below you see my real money account which works as a client (slave account). This is to demonstrate how Vavatrade signals make money on a real money account.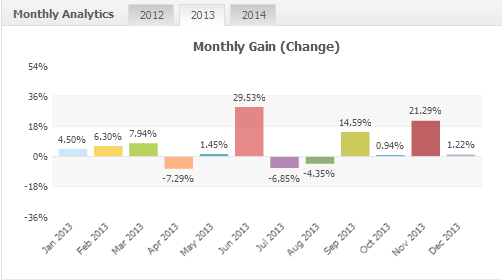 The trading system used on these two accounts is the same.  There were slightly different entry prices because of slippage at times, etc.  The difference in percentage gains/losses each month comes from a different lot size (trade size) used on each account.  Even when the account equity is different in each of these accounts, which should call for different trade sizes for each trade, I was still using the same 0.1 lot size for both accounts.
At the moment as I write this the master account is at about $17,000 and it still uses lot size of 0.1.
The slave account (real money) is at about $7,000 and it also uses a lot size of 0.1.
Now you may already know that my Daily-F system should use 0.1 lot size for every $5,000. This means that on an account between $15k and $19k, I should be using 0.3 lot size for each trade. And once the equity reaches $20k then the lot size should be increased to 0.4 lots per trade.
Now there is no explanation of why I still use 0.1 on the master account, when according to my rules, it should be 0.3.  This is about to change in the next week. To be more precise, I will be switching to the new lot size this weekend.  So on Sunday/Monday (January 27th, 2014), you should see 0.3 lot size trades on the master account.
I will be changing lot size on master account to 0.3 just to match the recommended settings.  (This should also effectively increase the rate of growth/gain for the account as well).
I have been postponing this change for quite a long time and it's about time to do this!  I want to avoid future misunderstandings.  I also want to clear up any confusion that you may have right now about discrepancies on the gains reported by the same trading system on two different accounts.
So now when a 0.1 trade gives $100 profit, on master account that is 0.58% profit while on the slave account that is 1.4% profit. This is why you see the difference on myfxbook for monthly gains/losses.  It is simply a matter of the gains/losses according to the total equity size of each account.
How lot size changes will affect you, the customer?
For those who are using fixed lot sizes or the risk-per-trade option, there is no need to do anything.  These are the parameters in the Client EA: FixedLotSize or Risk_Percent.  These will not be affected and if you are using one of these two options then you do not need to change anything.
If you are using the LotMultiplier option, or the default option to follow the risk of the master account (RiskRatioServer), will need to adjust the settings if you want to keep the risk you have right now.  Important:  If you do not make changes to these settings, you will notice an increase of 3x times the risk per trade on your account.  So in order to leave the risk at the same level as you have it right now, lower your LotMultiplier or RiskRatioServer value 3x times.
To change the risk settings, follow these simple steps:
Please first login to the Vavatrade members area and open the Profile page.
Next, open the "Global Client EA settings" tab and turn them on.
From the drop down menu, select the risk mode you want to use and enter the value on the right side.
In the image below, you can see how the risk is configured to follow the master account risk ratio of 1, which means the slave account will adopt the same risk level as the master account, regardless of whether the master and slave account are different sizes.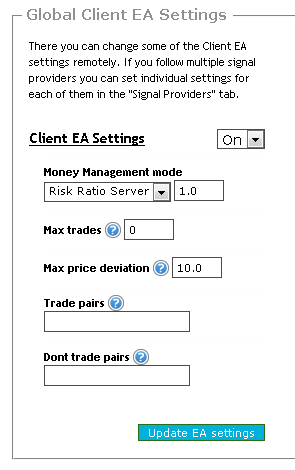 Special Note: The best time to make changes to your Client EA risk settings is during the weekend before the Forex market opens on Sunday/Monday.
Soon to happen improvements to Daily-F
I am doing my best to improve the Daily-F trading strategy, especially since more and more people count on it to grow their accounts each month. The next major change coming is that my system will stop moving pending orders and stop losses to a new price, but instead, it will cancel the pending order and place a new order at the new entry price and with a new stop loss level.
The main reason for this change is to avoid the problem for those people who follow my trading signals and risk a certain percentage per trade.  When a stop loss changes or the entry price changes, and you have order entered to risk 2%, it would no longer be 2% after the changes.  The risk may grow or the risk may shrink, but it is not consistent and this is a much-needed change that I know many of you will enjoy.
Here's an example for you.  Imagine that you have a buy stop pending order @ 1.2200 with a stop loss of 100 pips @ 1.2100. If you risk 4% per trade and your account equity is $5,000,that would be $200 per trade in risk. This would also mean 0.2 lot size for the 100 pips at risk. Now let's assume that the entry price is changed because of changing support and resistance levels.
So now the entry price is moved to 1.2300 which is 200 pips away from the initial stop loss (instead of the original 100 pips).  If the lot size does not change, it means that 0.2 lot size for 200 pips is $400 risk per trade, which is 8% and effectively twice the risk you had wanted.  This is how a trade can lose more than you had expected, due to changes in support and resistance lines.
When the system cancels the current pending order and places a new one with the new stop loss and/or entry price, your Client EA will follow the master account and also change. This means that the new lot size will be calculated for the trade according to the newly changed trade parameters.  This is done to make sure it risks the exact amount you configured it to risk.
I am also looking to lower the stop loss to 250-300. Currently, the max stop loss used can be up to 400 pips. It does not mean my system uses this stop loss on all trades, but this is the maximum allowable stop loss value in pips.
Conclusion
Now I do not know if you are following my trading signals or not, but if you have been following my trading record then you can see that it speaks for itself.  I am not going to try and convince you that you will make money with my system.  I don't want to sell anything to you.  But if you have been looking for a trading system that makes real money then this may be what you have been searching for.
It consistently earns me real money on my personal live account and I believe it can do the same for you.  To make it nice and easy to test out, you can take it for a test drive for 30-days on a demo or live account and see if it's something you want to be a part of.
Hope this has been of service to you.  Please post a comment below and let me know what you think or if you have any questions then please post those too.