Vavatrade Changes: Removed Three Currency Pairs
I have to admit this was a long time coming and finally I did it. I have been testing lots of things with my Daily-F trading strategy with not much luck to find something better and then the simple K.I.S.S. rule hit me. For those who do not know what KISS means it is "Keep It Simple Stupid". Looks like I have been looking for improvements way too far and overcomplicated things a lot, but this does not surprise me, this is a common problem of all programmers. Being busy testing complicated things for Daily-F strategy optimization I could not see the simple improvement possibilities that were right in front of my eyes.
A couple of months ago one of my customers contacted me and gave me a suggestion to remove a few pairs from my trading system. I was about to reply with "Thank you for your suggestions" and move on to the next email, but then I noticed it was different from the others. Aleksandr included a couple of screenshots from Myfxbook comparing how my trading results could have been better by just removing these three pairs completely. I must admit I noticed the benefit of it right away and I feel a bit frustrated that I did not implement these changes sooner. Well, better later than never. I cannot apply every suggestion and idea that each individual emails me, because that would simply ruin everything, but I am sure these changes will be for good because it has been tested for 3 years.
The new optimized Daily-F strategy
I want to announce that as of July 3rd I have removed these three pairs from Daily-F trading strategy: GBPJPY, USDCAD, USDJPY. I already feel my best friend Alius already smiling when reading this because he suggested me to remove the GBPJPY last year, but actually this pair was giving quite good profits until the beginning of 2014.
Now let me show you why these changes have been made. I will share a few screenshots with you from Myfxbook.
Here's the original trading record of my Daily-F master account.
It is a demo account and it has 3 years of profitable trading record which actually looks pretty good. It shows +227.4% gain and 21.8% drawdown. But still you will see how it can be improved by just removing those 3 pairs. If you are still wondering why I use demo account as a master account you can read my story in my book "How to Start Your Own Forex Signal Service".
Okay, so lets do some custom analysis on Myfxbook and see how the same trading record would look like without GBPJPY, USDCAD and USDJPY pairs.
I bet you already see an improvement. For those who do not see it let me give you a hint. Drawdown. Yes, just look at the drawdown which now turned out to be only 12.93%.
If you look at the overall gain it does not seem to give a huge difference as it is bigger by only 8.85, but actually it is a huge difference having in mind that we have removed 3 pairs and still not only have a better overall gain, but also a smaller drawdown. The drawdown went down by 8.87.
Lets see how this graph looks like if we leave only those 3 bad pairs.
It is clearly visible that GBPJPY (orange line) did quite well in the second half of the chart until it went down like a rock and ruined all the previous track record. (Don't mind the Equity numbers on the left, I'm not sure why Myfxbook shows them like that.) We can see that it came back to the starting point at its lowest drawdown in 2011 or even slightly below that. At the beginning of 2014 GBPJPY was looking like a really cool pair which goes up fast and I remember this was the reason I did not remove GBPJPY pair from the Daily-F. Now I can admit this was a mistake to not remove the GBPJPY in December 2013, but no one knew this was coming. Guesses and predictions do not count as "I told you so". If GBPJPY had not lost so much in the last few months I would probably not be making these changes and wouldn't be writing this post. Now when GBPJPY performed really really badly everyone who "predicted" or "knew this was coming" can stand up and say it out loud. If GBPJPY would have made huge profits those "predictions" would have been forgotten. It's like no one ever looks back at the last week's weather forecast to double check if it was correct, unless you are the forecaster and want to improve your work.
Lets see how this looks like on my real money account
Now let's open my real money account with Dukascopy, which is actually no longer updated since 2014.05.21. I have closed it and transferred money to another broker. A new account has been opened for this and we will take a look at it in a moment. This was done because FTT no longer offers MT4 bridge for Dukascopy. It was strange to receive another email from them a week or two later saying they offer this service again, but I am glad I moved away from them because FTT actually gave me lots of trouble in the past.
Note: I have filtered out that AUDUSD 0.2 trade which was a loss of -$1125.80 dollars that never happened and simply added to Myfxbook by mistake. To do this I used Custom Analysis option in Myfxbook and chose to show only trades with the lot size of 0.1. That AUDUSD trade never actually happened and was a mistake from FTT MT4 Bridge and had a 0.2 lot size so this made it easy to filter it out.
Let's now do some modifications to the results.
We have a gain of 131.68%, which is smaller than the original version, and a drawdown of 22.3%. Now this might look like we made it worse, but note that the real money account was traded for only 2 years while master account was traded for 3 years.
Take a look at what the trading looks like in 2014 only (when Daily-F was not performing well) and with all 8 pairs in place.
The account shows a loss of -2.4%, but note that trading was stopped on this account on 2014.05.21. June was not the best trading month as well and the loss would have been much bigger here. We will be able to see at least some of that on the new account in a moment.
Now below is a screenshot of how this real money account would look without those 3 pairs.
Well, it's not the sexiest picture, but still it is profitable and we have a much smaller drawdown of only 11.59%.
This looks much better actually on the master account for the same period.
Why the difference? Well, let's just say that I had lots of issues with FTT MT4 Bridge that resulted in duplicate trades, trades being missed, etc. This would be another story, but I doubt it is worth writing about since I am already with a new broker.
My new live real money trading account
Let me show you my new live real money trading account that I opened and started trading Daily-F signals on 2014.05.26. This account replaces that live account I had with Dukascopy which is already closed.
June was not profitable for Daily-F so these results below do not look very sexy.
A loss of -4.48% and a drawdown of 10.89%. And below is how it would look like without those 3 pairs.
Not much, but still better. A Loss of -1.91%, but hey, check out the drawdown, it's only 1.53%. I truly believe this is the new Daily-F with much better trading performance. Of course it still needs time to prove this, but having these 3 years of data for this optimization makes me confident I am doing the right thing.
What customers need to do about these changes?
Absolutely nothing. The changes have already been made in my master account on July 3rd and you probably saw that in your accounts that orders from these 3 pairs were closed on that day.
Conclusion
These changes should bring more stable and profitable trading to Daily-F and also would allow my customers to use more aggressive risk settings if they want to, although I do not recommend to risk more than I do on my master account and it is best to just leave Client EA risk management options at default settings. But for those who want to risk more, for example, you can risk a certain percentage for every new trade instead of increasing the lot size on fixed level of gains as I currently suggest. This might gain much higher profits in the end, but of course there is no guarantee. To set this you need to go to the the Vavatrade member's area, open the "Profile" page and then navigate to the "Global Client EA Settings". There you can set the "Risk_Percent" option to risk a certain percentage on every trade.
On another note, I believe that you should always improve your work and never stop learning in all areas of your life. I really look forward to seeing much much better Vavatrade signal results from now on. There are lots of changes coming to my www.vavatrade.com website as well. I am working to redesign it right now, put an explanatory video on the website, update the trade copier software, offer annual payment option to let you save more, and also offer a MAM account investment option as well. It has actually already been available for the last few months, but I never announced it on my website. Stay tuned 😉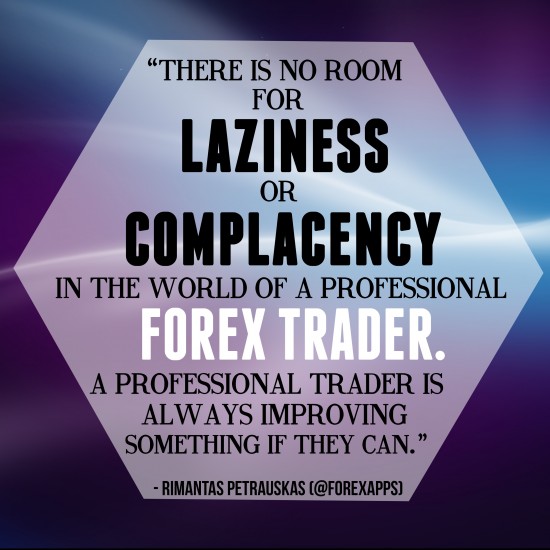 "There is no room for laziness or complacency in the world of a professional FOREX trader. A professional trader is always improving something if they can."

– Rimantas Petrauskas (@forexapps)
Thank you for reading and as always, please leave your comments down below.