In this video above I demonstrate how you can use the Stealth EA to trade range bound markets, what price levels to use, the benefits of hidden pending orders and why using semi-automated FOREX trading tool like this EA can give you more sleep or free time.
What is Stealth EA?
Stealth EA is an MT4 trade manager designed for everyday trading in the Forex market. Its main purpose is to hide as many of your trading actions from the brokers as possible; I call this invisible Forex trading. This EA can hide the stop loss, take profit, entry price and expiration time of any trade while allowing you to adjust them with your mouse.
Stealth EA will serve you as a wonderful trading tool in manual trading, and you won't believe the advantages it can offer. This EA can even work with other Expert Advisors and manage their trades as well.
Stealth EA is an add-on for MT4 terminal which can "trick" a broker into not knowing where your stop loss and take profit levels are. This also means that you can set stops within their minimum distances and they will still work. You can set stops as small as 0.1 pip (on 5-digit broker).
This EA is designed for the MetaTrader 4 platform and it can be used with any Forex broker, any MT4 account and any currency pair.
With Stealth EA you will be able to hide your trading habits and styles from your broker. You can set the EA to open trades at the specified price when you sleep or while you're busy living your life. The EA can monitor your trades and close them at a convenient time, and apply hidden trailing stop, hide stop or profit values. There is no limit to how many instances of this EA you can run on the same account, using different options and managing trades from different MT4 robots and manual traders.
Hidden stop loss should always be smaller than the real stop loss (the one that broker can see) so that the Stealth EA close the trade earlier and fool the broker that way.
Please note that Stealth EA is a trading tool, and it does not open trades without human intervention. It does not trade Forex market alone. It is used in manual trading or with other 3rd party Expert Advisors. Stealth EA can not be used in StrategyTester, and there are no back tests available.
This App is for Tech-Savvy Users.
Why you need Stealth EA?
Stealth EA is useful if you want to hide any of your trading logic from a broker. The EA will fool your broker about your stop loss and take profit values and will not let him know where your pending orders are, what size they are, or when you plan to close your trades. For your convenience EA also allow you to adjust the hidden levels easily on a chart by simply dragging lines with your mouse. Forget the confusing stop loss or take profit calculations, just move the line to a new price and it's changed immediately. You don't need to endure any more sleepless nights monitoring your trades just to close them at a specified time, Stealth EA will get this done for you too with vertical close lines.
Are you a full time Forex trader and use the MT4 platform? Do you have an MT4 account where you receive trading signals from a 3rd party provider? In this case, Stealth EA is a must-have tool for you. Every trader will find it useful in currency trading and it enables you to do more with less effort. This EA can protect your trades with an invisible stop loss in case you or your signal provider forgets to set one, or it can use the invisible trailing stop function. You can also set your trades to be closed on Friday before the end of your broker's trading hours.
A handy one-click trading feature would be a great help for anyone who does any type of currency trading in MT4. This EA has that feature, and you can open buy or sell trades with a simple keyboard shortcut like Ctrl+4 or Ctrl+5. Trade settings are preset in the EA inputs and a trade will already be placed with invisible stops and a magic number.
Hidden Stop Loss & Take Profit

Allows you to hide stops from your MT4 broker by converting them into horizontal lines on the chart. Brokers will not see these lines and will not know where your stop loss or take profit is.
<< Play Video >>
Fake Stop Loss & Take Profit
Software allows you to set fake, real, stops at a certain distance from the hidden ones. This will fool your broker to think that you exit at the fake levels, but actually your trades will be closed at hidden stop levels.
<< Play Video >>
Move Stop Loss & Take Profit with your mouse

You can move stops with your mouse easily. Just double-click the horizontal line that represents the hidden stop loss or take profit, and drag it to any position you want.
<< Play Video >>
Hidden pending orders

You can place an unlimited number of hidden pending orders. Just create regular MT4 horizontal lines on the chart and set the proper description in the properties window. A lot of individual settings can be set for each order.
<< Play Video >>
Stop & Reverse Trading

The "Stop and Reverse" trading mode built-in. In this mode all opposite trades will be closed when you use 1-click trading hot-key to open new trade. Very useful if you always want to avoid hedge trades open.
<< Play Video >>
1-Click trading using keyboard hot-keys

You can use special keyboard hot-keys like ALT+2 and ALT+3 to open the trades fast. Each trade will use the settings set in the EA inputs. You can choose your individual Hot-keys for BUY and SELL trades.
<< Play Video >>
Close lines

Allows you to place vertical lines that can be treated as "close trade" commands. You can place unlimited number of MT4 vertical lines, and EA will close the corresponding trades when the right time comes.
<< Play Video >>
One-Cancels-Other (OCO)

This feature allows you to delete opposite hidden pending orders when one of them is triggered. Very useful if you want to avoid hedge positions opened on your account.
<< Play Video >>
Low stops of 1 pip

Does not limit the minimum distance allowed for the hidden stop loss and take profit levels. You can set 1 pip stop loss or even 1 point on a 5-digit broker (0.1 pip). Although such low stops are not irrational, you are still allowed to use them.
<< Play Video >>
Dashboard

Displays the dashboard on the left on the MT4 chart. It contains various info and EA settings. Dashboard position was chosen wisely to not cover your trade information.
<< Play Video >>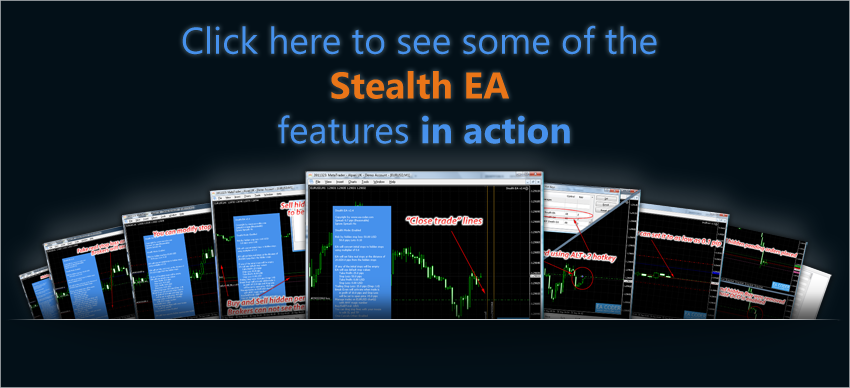 Stealth EA
Other Stealth EA features
EA is designed for Metatrader 4 platform
If MT4 platform or computer restart you will not lose your stop loss and take profit levels
EA can use initial SL & TP and remove real stops from the trades to hide them
EA can handle lots of trades with different hidden Take Profit and/or Stop Loss levels
Hidden Trailing Stop
Sets invisible Stop Loss to BreakEven point when certain profit in pips is reached to secure trade
If any of the initial stops are empty EA can use default stop values instead
EA can be set to manage only current pair, the one it is running on, or you can set to manage all trades
EA will manage all trades running on your account, but you can override this by setting certain magic number
Can close all trades at a given broker time (ex.: 17:00)
Allows to ignore spreads
For more detailed description of the EA settings and features, please download Stealth EA instruction manual.
There are no back-testing results available because all of my MT4 Expert Advisors are trading tools that do not work without user intervention and most of them cannot even be used in Strategy Tester because they only do what a human trader tells them to do. All software on my website are build as tools to help you in Forex trading.
Before you make a purchase please read my Purchase Policy.
License information
Personal license works on an unlimited Real MT4 accounts and unlimited Demo MT4 accounts on a single computer/VPS. It means you may install the software onto your desktop and notebook computers, but use it only on one computer at the same time. EA is not permanently locked to a computer or MT4 account. You can personally transfer the license to another computer/VPS or MT4 account at any time.
VIP license works on any Real/Demo MT4 accounts on any number of computers/VPS at the same time. It means you may install and simultaneously use the software onto any computer/VPS as long as they belong to you.