Offline Charts for Metatrader 4
Trading Forex is an increasingly popular choice these days, especially with the amount of information and advice available, and if you are reading this you will already be familiar with the subject. We are here to talk about Metatrader 4, and the various offline charts that can be used in conjunction with this excellent trading platform. As the most popular trading platform of all, Metatrader has become the staple choice for Forex traders, so let's have a look at the various offline charts that the system utilizes.
For those who want to learn these types of charts in detail i would recommend reading book Beyond Candlesticks by Steve Nison.
Here is a Renko chart software and some trading ideas and this is the software that can create range bar charts.
Renko Charts on Metatrader 4
Getting to grips with Renko charts is essential if you are looking to trade successfully. These clever and – once mastered – easy to understand charts offer an excellent method of following trends, and are among the most commonly used of all. The name – Renko – is derived from the Japanese term 'Renga', which means 'brick'; this is why the charts use indicators known as bricks, a term that has become synonymous with Renko charts. Let's have a closer look at how they work.
Renko Charts use a set brick size which covers a pre-determined time period: the bricks are added to the chart as and when the market shows certain changes. Bricks can be either filled or hollow: the black, filled, bricks indicate falling prices, hollow bricks rising prices. The bricks are added corner to corner, forming a graph over time, and only one can be used per time period. Each time the price rises or falls above or below the extremities of the last brick on the chart a new one is added, hollow or black depending upon the situation. The result is a continuing graph that shows a detailed assessment of the market movement.
What is particularly interesting about Renko charts is that they are – effectively – time independent; the addition of bricks depends upon significant movement in the market beyond a set value, hence it can appear that the situation is static for some time. Only when the brick size is exceeded is another added. Users can specify two ways of operating a Renko chart: Absolute Points is a parameter base that uses a set brick size, determined by the operator, and the advantages and disadvantages are clear. There is a difference in size for more valuable markets, meaning the chart will need to be amended frequently for changing markets. Many people favour the Average True Range (ATR) parameter, which uses an average brick size to overcome the volatility of a market. This system presents an accurate and usable chart in most cases.
Below you can see how Renko chart on Metatrader 4 looks like. These offline charts are created by a 3rd party application. In the offline GBPUSD 2 minute chart below you can see 10 pip price candles (bars). The new candle is formed only when price moves 10 pips (or other number you set), so these charts are drawn based on the price only.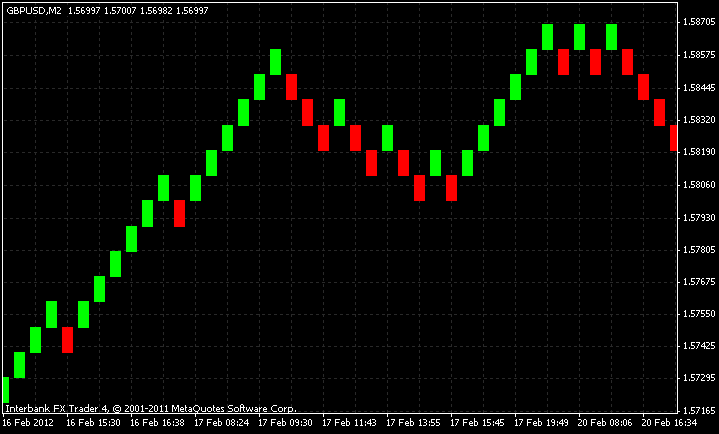 Using Range Bars to Your Advantage
Range bars are used frequently with Metatrader 4 and can be extremely useful. A relatively new method of forecasting, Range Bars are simple graphical representations of the market which are determined by preset parameters. The system is simple to use: set your high/low parameters and each time the market moves up or down beyond your set range a bar will be added to the graph. One advantage of this is – as with Renko charts – the actual time is irrelevant, hence fast moving markets can be followed as they change.
Range bars are popular with traders because they tend to eliminate interference that can lead to unwarranted changes in a market: political events, for example, can lead to momentary confusion in a market, and confusion means the trader does not act as quickly as they should. Range bars look at the bigger picture by their very nature, and hence can be extremely useful in helping make the right decisions. The advantage of moving from time-based charts to Range bars, especially on Metatrader, is not to be underestimated.
What is interesting with Range bars is that the information is more relevant than with time-based charts: think of it like this – if time is your parameter then you are already a step behind; range bars offer you a moving picture that is already ahead of the game. Traders have found that using range bars provides a smoother, more easily interpreted graphical representation of the movement in the market, and this in turn means that there is much to be gained from using this up to the minute method of trading.
Other Offline Charts for Metatrader 4
Renko Charts and Range Bars are not the sole offline charts that can be used with Metatrader 4, but they are by far the most popular and usable. As proven trading tools they offer excellent help and visual interpretation of the market, as well as being reliable and surprisingly accurate. There are custom offline charts that can be used to simplify the trading experience, and many are effective. A quick internet search will throw up a number of downloadable templates and ideas; it is worthwhile trying some of the more popular ones, and many traders have found usable and effective templates online that they use to great effect.
A standard Renko Chart is an easy to interpret and very useful tool for experienced and novice traders, while Range Bars draw upon their very simplicity to present a statistical and visual interpretation of market movements that aids trading in no small way. It is important to remember that, while time independent, both of these offline charts are influenced by the preset period that you choose to use with them: in the case of the Renko Chart the size of the brick, with the Range Bars it is the range you choose. By playing with these in order to find the best one for a particular market a trader is streamlining the trading method to a great degree, and many have reported increased success using these modern methods.
Whether you choose Renko Charts or Range Bars for use with Metatrader 4 the aim is the same – to get the very best and most accurate representation of the market. Eliminating the time-based element of market forecasting moves you one step ahead, and should enable you to make decisions based on information that is specific to your market.
We offer MT4 programming services and we can build Expert Advisors that work on an offline charts. Note that 3rd party application that creates offline charts are not included.
[mailchimp-article-newsletter]