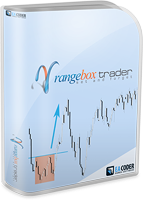 What is Range Box Trader?
Range Box Trader is an Expert Advisor application that initiates orders on a price breakout that matches a time and price range-box. After you set the start and the end points of a time range, EA will draw a box between the highest peak and lowest bottom prices within that time range. When a price breaks through that range at either side, the Range Box Trader will open a trade in that direction. Once it has been set up, EA will draw and trade a range box every day. You can setup EA on multiple currency charts and it can use regular or hidden pending orders.
This EA is designed for the MetaTrader 4 platform and can be used with any Forex broker, any MT4 account and any currency pair.
With Range Box Trader you will be able to initiate orders on a trading session breakout or a custom time range breakout. There is no limit to how many instances of this EA can be executed on the same account with different options to trade multiple breakout sessions. You can also initiate orders based on a range-bounce trading style for the same trading sessions. The EA can initiate regular or hidden pending orders at your convenience, simple set the EA up once and it will repeat the same trading style each day. It can also set dynamic stop loss and take profit values automatically based on the size of the price range between the start and end time points.
I have wrote this article that explains what is a price breakout and their different types.
Why you need Range Box Trader?
I have been using the Range Box Trader to assist me and it is a great and very reliable product.
– Stephen Ritchie, United Kingdom
If you want to trade breakouts of a trading session then Range Box Trader is the best EA to use. You just need to set the start and end time of the session according to your broker clock and the EA will do the rest.
For example, if you trade an Asian session breakout manually then you're wasting your time setting up pending orders at the high and low prices of the previous Asian session when it ends. Range Box Trader will do this automatically for you in no time and you can spend that time with your family or friends instead of being glued to your computer screen!
If you're worried about broker being able to see your pending orders set at the same time every day and revealing your strategy, then you don't need to worry because Range Box Trader is ready to hide them for you. Instead of using regular pending orders this EA can set a hidden pending order. In other words, no real pending orders will be placed and a market order will be opened as soon as the price breaks out of the range box.
Range Box Trader is the right software for any kind of breakout trader, and you will definitely find it useful. There will be no more boring entry price and stop loss level calculations, no more sleepless nights to trade on European trading session breakouts when you are 12 hours ahead, and no more 3rd party trade managers to apply a trailing stop or break even. Range Box Trader does it all automatically.
RangeBox Trader features
EA is designed for Metatrader 4 platform
Can handle two lines: high level for BUY signal and low level for SELL signal
Allows to set expiry time and trades can be closed at that event
Allows to add desired number of pips to widen range
EA can place pending regular orders or use hidden pending orders
Stop Loss and/or TakeProfit are set in percent of the range size
Lot size can be fixed or EA can use Advanced Money management
OCO supported. EA can cancel opposite pending order when one is triggered
EA supports unlimited number of range boxes on the same currency pair
All settings displayed on the chart in the left-top corner
Many custom settings can be configured to fit your needs
For more detailed description of the EA settings and features, please download Range Box Trader instruction manual.
How RangeBox Trader can be useful for me?
There are a lot of similar Forex Trading Systems were you have to take the last high and low price levels of the specific time range and open trades when market price reach those levels. Usually these are Breakout Trading Systems where you should open BUY trade if price touch the high level and open SELL trade if price touch the low level. If you have a full time job or just do not want to sit in front of the computer all day, you will likely miss those moments when you need to open the trade.
RangeBox Trader will help you with this. You just need to set your desired settings and it will monitor the Forex market 24/7 to open trades at the right moment. Many traders use the range from midnight until London/Europe session open and then draw lines at the high and low manually or use pending orders. They calculate lot sizes, stop loss, take profit level manually and that can take much time and effort. RangeBox Trader will do all this automatically in a matter of seconds.
How to use RangeBox Trader?
Once started EA will draw a Range Box from starting till ending time set
EA will open trade at high and low of the Range Box
When running EA on many charts it is recommended to not use pending orders to avoid "Trading Context Busy" error
If pending orders are disabled (UsePendingOrders=false) you will see two lines ar the high and low of the range box
EA will open BUY trade when price touch top line
EA will open SELL trades when price touch bottom line
Lot Size, Stop Loss, Take Profit and any other settings are controlled by special EA settings which are described below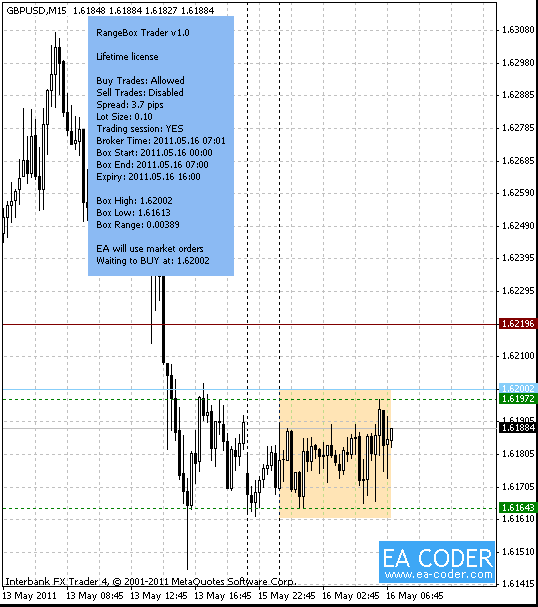 In the picture above you see EA running on the GBPUSD M15 chart. EA is set to open only BUY trades and you can see only blue line at the high of the Range Box.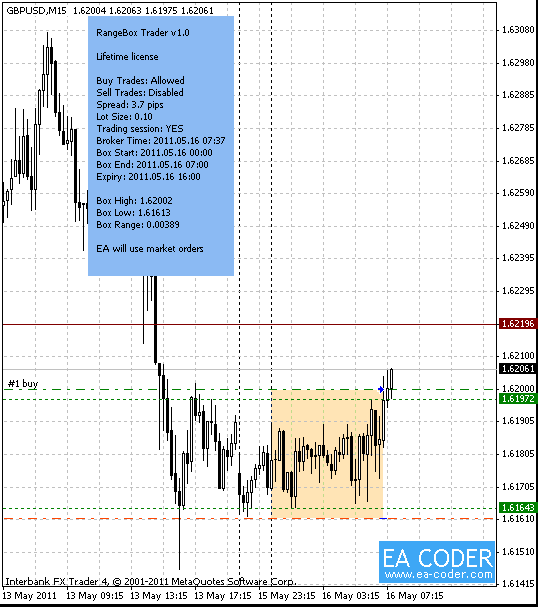 Price reached Range Box high level and EA opened a BUY trade.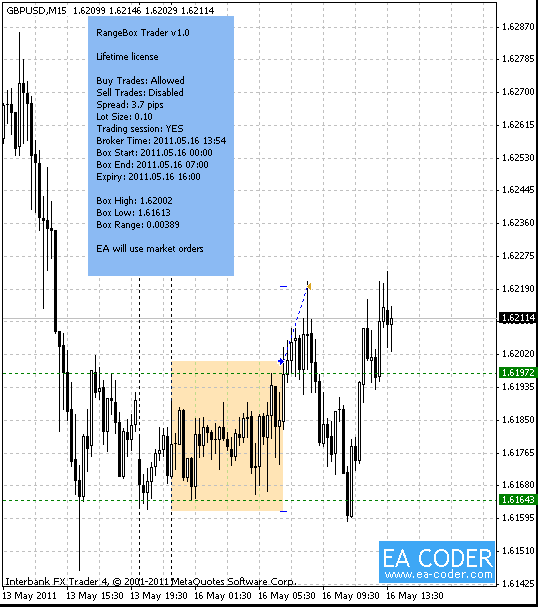 BUY trade reached Take Profit level. SELL trade was not opened because EA is set only to open BUY trades.
License information
Personal license works on an unlimited Real MT4 accounts and unlimited Demo MT4 accounts on a single computer/VPS. It means you may install the software on your desktop and notebook computers, but use it only on one computer at the same time. EA is not permanently locked to a computer or MT4 account. You can personally transfer the license to another computer/VPS or MT4 account at any time.
VIP license works on an unlimited number of any Real/Demo MT4 accounts on max 5 computers/VPS at the same time. It means you may install and simultaneously use the software on 5 computers/VPS as long as they belong to you.