There is a relatively new concept that has become increasingly popular in the Forex trading community.  The basic idea is that a person can copy trades from one trading platform to another, or from one trader to another.  This idea is accomplished by using a tool called a trade copier.  A trade copier pretty much does exactly as the name implies – copying trades from one Forex trading account (MetaTrader terminal) to another.
There are dozens of potential uses for such technology.  Individual traders can use it, as well as larger institutions, fund managers, account managers and trade signal providers.  We can look at a few of these different users and how a trade copier can benefit each of them.
Let us first imagine that you are a successful Forex trader.  You have a good friend who is struggling with learning currency trading.  You decide that because you have a successful system for trading and a high win ratio that you are going to share your trades with your friend.  After all, this is not such an outlandish idea – with the right technology it is indeed possible to smoothly copy trades from one user to another.
Share in the success of others
If one Forex trader is doing well, and they would like to share their trades with others so that they can be automatically copied/shared, the successful trader is now able to share their trades with others through this trade copying technology.
In so many ways, sharing is caring.  Sharing can also be profitable.  Even though the technology of copying Forex trades from one account to another is relatively new, it has been built and implemented successfully.  There are already many different successful trade signal providers that offer subscription services to their clients/subscribers and are profiting on a monthly basis.
In this way, individual traders are also able to benefit from the winning signals/trades as published by these professional traders.  It is important to know that signals from both human traders and robot traders alike can be copied via trade copiers and shared with others.  The world is now even smaller.
What is an MT4 Trade Copier?
Technically speaking, an MT4 (MetaTrader 4) trade copier is a little piece of software that is installed on two different MT4 platforms that 'communicate' with each other to relay trade signals/information.  Fortunately, you don't have to understand exactly how the technology works to be able to benefit from trade copying software.  (It is, however, important to note that not all trade copiers are built alike.  Some are of the highest quality and others may suffer from relay problems, incorrect trade copies and interference from MT4 version incompatibilities.  Make sure you only work with trade copiers that are proven to work effectively without errors or omissions.)
There are two types of trade copiers
We are going to take a look at two different types of trade copiers.  The two types of trade copiers are known as 'local trade copiers' and 'remote trade copiers' and this article will explain what the differences between the two as well as how each works.  By the end of this article you should have a pretty thorough understanding of what each type a trade copier is and how they work.  It is also my hope that you will understand how to benefit from both types of trade copiers.
Each different type of trade copier has its purpose.  Clearly understanding how each of them operate and what their functions are will help you determine which one is right for the purposes you have in mind.  Sometimes it will be beneficial to use both types, and other times using one or the other will be most appropriate.  Let us now take a look at the two different types of trade copiers and what their primary functions are.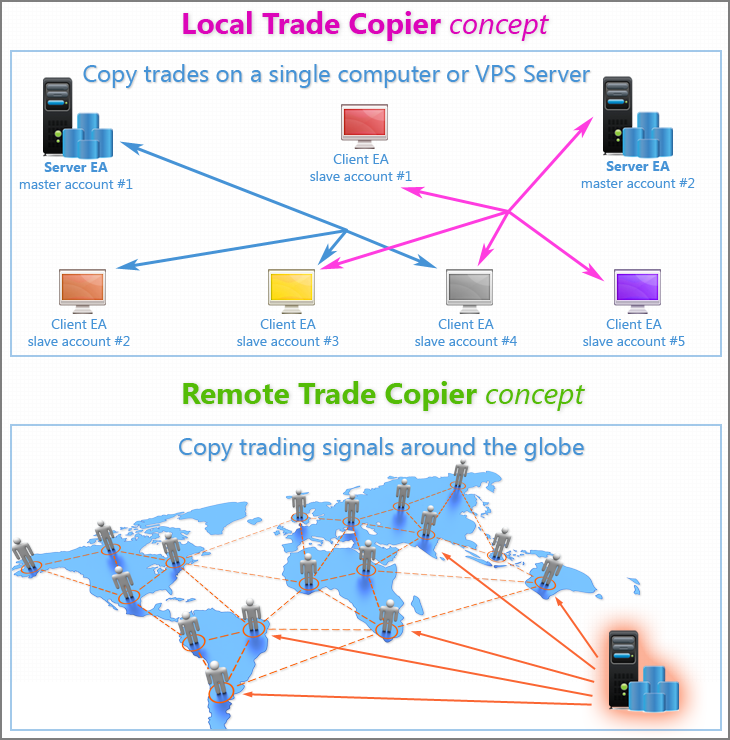 Local Trade Copier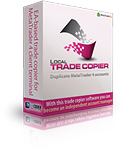 The first type of trade copier is known as a Local Trade Copier (LTC).  This is a small 'plugin' to the MT4 platform that works with two different platforms.  These two platforms must be hosted on the same computer and can be used with any broker.  This little piece of software, which is programmed as an Electronic Advisor (a.k.a. Expert Advisor or EA for short), will communicate between the two different platforms in order to relay trade signals from one to the other.  We will explore the potentials for such a copier later in this article.  But suffice it to say that a trade copier's primary purpose is to copy trades from one platform to another on the same computer.  This computer can also be a server; there is no difference between the two in how the copier will function.
Remote Trade Copier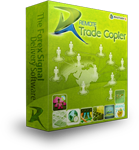 The other type of trade copier is known as a Remote Trade Copier (RTC). A remote trade copier utilizes the technology of a web-server and the internet in order to communicate between two or more MT4 platforms that are not located on the same computer.  For example, you could have one computer operating an MT4 platform in London England that communicates and copies trades over to another MT4 platform that is in Tokyo Japan. MT4 platforms can be with any broker.
You could also have a 'master' metatrader account that is running the trade copier and can transfer trade orders to dozens (or hundreds) of different 'slave' trading accounts (MT4 accounts of your customers).  These 'slave' metatrader accounts could be located all around the world and still receive the trades from the master account in near-real-time.  The interface that connects these different accounts will typically be hosted on a server of some type, but this is not an important point right now.
What are the purposes of these two types of trade copiers?
The local copier is best to explain first so we will start there.  Let's say that you have two trading accounts but you want to duplicate the same trades in each account.  For example, you are a manual trader and you simply want to place one trade on one of your accounts and have it be automatically copied into your second account.
This is the primary purpose of the Local Trade Copier.  You would simply install the trade copier on both of your MetaTrader platforms, configure a few options, and then let the software do all the rest.  Each trade that you take in the master account will be automatically copied to the slave account – from one platform to the next.
Additional settings and options that can be configured with the local copier
There are some additional options that can be configured with a Local Trade Copier (LTC) and might be useful for different situations.  Let's say for example that you have these two accounts and you want one of the accounts to trade a different percentage risk than the other accounts.  This is possible with LTC.  You set up the Client EA and specify what percentage risk will be used on each trade into the second account.
This is very useful if you have two different accounts in you want to allocate a different risk percentage for each account.  For example, your second account is designed to be a faster growth account.  Therefore you must allocate a higher risk percentage on each trade in order to achieve this faster growth.
You would set the risk on the second account (the one that is receiving the copied trades) to be more aggressive.  This will allow the potential for faster growth (but yet you only need to take one trade on your main account).  Managing multiple accounts with varying levels of risk is just one of the benefits of such a trade copier.
An account manager benefits from a local copier and automatically copying trades to a handful of other terminals
There is a another application for the Local Trade Copier software.  You may find it quite interesting.  Let's say that you are managing trades for other people's trading accounts.  They have entrusted to you the responsibility of bringing to them a positive return.  You are successful at doing so, but the only trouble is that you are overwhelmed with the burden of placing multiple trades on different MetaTrader platforms.  Is there a solution to this dilemma?
Indeed there is.  Let us now assumed that you have LTC running on your computer and you have several other platforms open (these are the platforms of the accounts that you manage.)
In the past you would have to place the trade three or four or five times into these different accounts.  But now, because you have LTC installed on your main platform as well as on the platforms of the accounts that you manage, it is as simple as placing one trade and having your trade copier automatically send those signals to the other platforms as well.
Without delay you have placed multiple orders on all these different accounts at the same entry price and with all the same trade parameters.  The trades are copied with lightning speed and usually in less than one second or even half a second.  This ensures that entry prices are as close as possible to each other.
Even if you want to assign a different lot size or risk setting to the different accounts you can easily do so with LTC. When you set up the trade copier initially for the various platforms you can specify the lot size per account or the percentage risk per account.  You will also have a handful of other options that can be customized as well.  These will allow precise control over risk and lot-size settings.
Expanded uses for the Remote Trade Copier
Now on the other hand, the Remote Trade Copier (RTC) is a lot more robust.  The primaries use for RTC relates to publishing trades from professional trading services or sharing trades with multiple users in different locations. Basically RTC is an all-in-one solution for trading signal providers. It has all the same features like LTC, a web-based control panel, variety of plug-ins and much more.
Let's say that you are a trading professional.  You publish your trades via e-mail so that other traders can benefit from them and in return you charge a monthly subscription cost.
E-mail is a very primitive and basic form of sharing trades with others.  Yes, it can be effective, but then again it is quite restrictive.  There are some really great options now available with the remote copier technology.
What if there were a seamless solution to help copy your trades into the accounts of others who are subscribed to your trade alerts?
This is the power inherent in the remote trading signal copier.  With seamless efficiency, RTC can take a signal from your MetaTrader platform and copy it to dozens or even hundreds of others' platforms in nearly the blink of an eye.  Are you starting to see the power of such a tool?
It is now possible to build an entire company around a successful trader without the headaches of the past.  RTC will facilitate the communication bridge between the main account and all of the subscribers accounts.
Can a remote or local trade copier be installed on a VPS (Virtual Private Server)?
A VPS is indeed a great tool for the modern trader.  A VPS is simply a virtual computer that stores information and is connected to the Internet, but typically does not reside in your own home.  You can use this tool to help protect your trading in the event of power/internet failure and also streamline trade copying.
A VPS may simply be a partition of a larger server that a web hosting company owns.  Regardless of whether it is a part of a server or the whole thing it does not matter for our illustration purposes.  You don't need to understand server technology to answer this question.  Suffice it to say that a VPS is just like a computer that you own, but one that is in 'cyberspace' and you have access to it through a special software or even a regular web browser page.  It is like accessing another computer remotely through a window on your desktop.
These VPS servers are often used to run trading platforms and software.  Hosting a Local Trade Copier (for the purpose of managing trades to multiple MT4 accounts) or even running a Remote Trade Copier on a VPS is very practical and entirely possible.  It is often better to run a trade copier from a VPS, though this depends entirely on the situation in question.  Just reply to this article if you have any questions about VPS/server technology.
There are a lot of companies that offer Virtual Private Servers, but personally I use the www.vpsforextrader.com since 2011 and I am satisfied with the quality and reliability they provide.
What if the accounts being copied to are of different size than the 'Provider' account?
This is exactly what the trade copiers have been designed for.  There are many adaptive settings on the trade copier that will allow for a smooth exchange between accounts of any size.  It does not matter whether you are trying to copy a trade from a $500 account to a $5,000 account, the trades will copy correctly according to the supplied settings.
It also does not matter whether you are copying from a $5,000,000 account to a $250 account, the exchange will still happen successful.  Here are some of the settings that can be configured on the 'slave' account (the one that receives the copied trades):
Setting a fixed lot size for each trade
Setting a certain percentage risk for each trade (measured according to the account size and the size of the stop loss)
Matching the same risk that is used in the 'master' account (the one where the trades are copied from). This is one of the most popular risk settings.
Choosing whether to trade certain currencies or whether to reject other currency pair trades
These are just a few of the many settings available on the remote and local trade copiers.  These different options facilitate the exchange from two different meta trader accounts regardless of their individual balances.
Do all the same charts need to be opened to receive trade signals on different currencies?
Not at all.  Only one chart need be opened in order to receive copied trades.  This one chart can be any time frame but should be a major currency pair (EURUSD, USDCHF, USDJPY, GBPUSD, AUDUSD, etc) for optimal performance. It does not matter on what pair a trade copier will be installed it will still send and receive trades of all pairs.
Can a trade copier reverse trades between two different accounts?
What an excellent question!  Yes, it is possible to reverse the trades coming from a master account. This is often a source of experimentation.  Many traders have the idea to reverse their trades because they have been struggling and losing money consistently.
Traders also often have the idea of reversing the trades from a losing EA/trading robot.  This is another fascinating idea that can be experimented with.  After all, the idea is a sound one: if you have a trading strategy that is losing money consistently, why not reverse the trades of that strategy and then you've got positive gains?
Why not just reverse a losing strategy for profit?
Well, it's not quite as simple as that and the reason why relates to the spreads and also the take-profit and stop-loss levels.  When you reverse a trade you are essentially paying for the spread twice.  It's hard to understand at first, but let's say that the first account loses three pips and then closes out.  That three pips was really just the spread.  Now on the reversed account, you have to pay for the spread on that trade also, and since the trade is 'backwards' you will actually find that it takes an extra few pips just to have the two trades 'equal' on the amount positive/negative.
But if you have a strategy that consistently loses money with large pip amounts per trade then yes it can be very effective to reverse the trades and profit from them.  Some bad strategies, however, are bad because they have many small losing trades and pay large amounts of money in spreads and commissions.  These types of strategies are not profitable to try and reverse.
I know it's a complicated matter to explain, but on this one just trust me when I say it is not as easy as it seems to reverse poorly performing strategies.  One of the reasons why many systems lose is simply because they pay so much out in commissions.  They may have roughly a 50% win-loss record but because they are not winning that many pips on the positive trades and because they must pay the expensive spreads and broker commissions, the profits are not as high as expected.
But again, if you can find a strategy that is good at losing large numbers of pips per trade then it can be an effective plan to reverse those trades.  You will learn best by experimenting with this yourself.
What if I have a large trading signal company… Can everything be managed for me (including web interface) so I can focus more on my trading and less on the technology?
What a splendid question indeed.  The answer is yes. A Remote Trade Copier can be a very scalable solution.  Rimantas Petrauskas of EA-Coder.com has vast experience working with signal provider companies to help bridge the gap to their customers.  This is like a one-stop shop to help get everything setup correctly for your clients to receive copied trades.
If necessary or beneficial, EA-Coder.com can even help host a customized platform with web login and hosted virtual private servers for the benefits of your trade signal customers. If you are running a signal provider company, you will find that the more streamlined a solution is for beginning traders the more likely they will be to adopt it successfully and benefit from the winning trading strategy you offer.