PRODUCT DISCONTINUED!
What is Hedge EA Advanced?
The right use of the Hedge EA might minimize the number of losses. If the initial trade will be lost, the hedge trade will win. If the initial trade wins, then the hedge trade might not even get triggered and will be canceled. That's the basic logic behind hedge trading. It is an alternative for stop loss and it can be used with MT4 accounts that allow hedge trades; this means having to buy and sell positions at the same time.
Reasons to use Hedge EA:
Minimize drawdown by locking-in losing positions until they get back in favor
Turn loosing trades into profitable trades by using the "Hedge the Hedge" technique
Increase winning ratio and profit by adding to winning positions
Of course, it can get more complicated, but when it comes to hedge trading, the main idea here is to open a trade in the opposite direction automatically instead of setting a stop loss for the initial order. A hedge order is placed as a pending order and if your initial trade goes in your favor, the hedge order is canceled. Otherwise, it gets triggered and covers losses for your initial trade.
Example:
Say you have INITIAL + HEDGE orders activated. You won't make a profit on them since one of both of them will always be at loss. But it's not what Hedge EA is about. It is for protecting your INITIAL trade. So once HEDGE trade is activated it kind of locks in a current floating loss and from that moment it does not matter in which direction the market will move – you will always have the same locked-in floating loss for those positions (assuming both positions are of the same lot size). At this stage, you can be sure that you won't lose more than that amount.
Now to profit from this situation you will need additional hedge trades, usually of bigger lot sizes, and Hedge EA can increase lot size automatically using your preset multiplier number. Imagine Initial BUY of 0.1 lot + hedge SELL of 0.1 lot, then another hedge BUY of 0.2 lot and then another hedge SELL of 0.4 lot, etc.
Such trading brings an extra level of risk for a margin call, but at the same time gives more opportunities to get out of trades in profit while initial trades would have closed in loss without hedging.
This EA is a quite advanced tool with a lot of options that might seem to be confusing for beginners, but obviously, you do not need to use all of the features available in the EA. You can start with a simple hedge trading model and move to the more complex configurations as you learn more and more about hedge trading. The instruction manual explains all EA options and settings.
I am not going to lie or convince you to buy something you might not need, so I will note that by using this EA incorrectly you may damage your account. Hedge position may become your losing position so you need a lot of practice there. I am not an expert in hedge trading, but Hedge EA was built by the recommendations and requirements from the Forex traders that use hedge trading techniques. With the many settings that Hedge EA can offer, there are no limits to how many different trading systems you can come up with.
No trading advice is included with the purchase so you should understand how you will be using such a trading tool. If you do not know what this EA is used for or you do not know what hedge trading is, you can learn more about hedge trading from books or other resources available online.
This EA is designed for the MetaTrader 4 platform and can be used with any Forex broker allowing hedge trading, any MT4 account, and any currency pair.
U.S. brokers prohibit hedge trading and you cannot have BUY and SELL trades open at the same time. This means Hedge EA will not work on such brokers. Some brokers simply deny opening trade in the opposite direction, while others allow you to open opposite trade, but it will be netted (e.g. 1 contract BUY and 2 contracts SELL will be netted to 1 contract SELL trade). To use Hedge EA you need a broker that allows having BUY and SELL trades open at the same time. Usually, all non-US brokers allow this. If BUY and SELL are allowed to be open at the same time EA will work fine, otherwise, you cannot use Hedge EA. Here's the list of Forex brokers that allow hedge trading.
Hedge EA can also be used in the MT4 Strategy Tester where you can choose what initial trade EA should open and then how it should create hedge positions. Here's a great MT4 backtesting tutorial about how to reach 99% modeling quality and use real variable spread.
Click here to read about the latest Hedge EA Advanced v1.9b
Please note that the Hedge EA is a trading tool and it does not open trades without human intervention. HEA does not work by itself and you need to open initial trades manually or by a 3rd party trading tool/EA. Personally, I do not use this trading tool as it is physically impossible for me to be everywhere, but I have many clients using this product every day. So there is no trading history to show. Trading records with these apps will depend on the trader who is using them.

This App is for Tech-Savvy Users.
Why you need Hedge EA Advanced?
If you already use the hedge trading system and want to make your trading easier, the Hedge EA will cover you. You can set this EA to open hedge trades automatically and manage them according to your setting 24 hours a day, which allows you to carry on trading while you are away from the computer.
With Hedge EA you do not need to place hedge orders manually, calculate the right stop loss and take profit price values, or be glued to your computer screen forever. EA will take care of your hedge orders automatically.
If you don't use any hedge trading systems then you should learn to use one before you begin using Hedge EA. When you understand how your strategy works and can see that this EA can help, you may want to ease your hedge trading and buy this software.
When you have a hedge trading strategy to use, test various combinations of EA settings to find the best ones for your currency pair and your trading style. EA can open hedge orders for an existing hedge order too and even one with a higher lot size, so in the end, your trade group will hit the take-profit level anyway. I call this HedgeHedge trading (HH).
Hedge EA can also work with our MT4 Trade Copier or Trader On Chart. MT4 does not allow to attach more than one EA on the same chart, but you can attach them to separate charts running the same currency pair. Here's an article explaining how to attach multiple EA on the same MT4 platform.
Stealth EA can apply hidden stop loss or take profit for your hedge and initial orders, and can also open an initial order that will make Hedge EA start its trading session.
Trader On Chart can be used to open the initial trade manually and then the Hedge EA will take it from there.
Hedge EA Advanced features
The EA opens hedge trades when your original trade reaches a certain predetermined loss point
Hedge trades are placed as pending orders immediately after you open the original trade
Ability to close the trades of the same branch when one of the trades get closed (hit TP/SL or closed manually)
The user can set range in pips when EA must open hedge trade
Uses the same Take Profit and Stop Loss like original trade
Can have different Take Profit and/or Stop Loss
When the original trade is closed, EA will delete the pending hedge order automatically if it is not triggered yet
EA will hedge multiple trades simultaneously
The trailing Stop function can be enabled for initial trades
EA can re-open hedge trade when it is closed in loss or profit
Hedge trades can have bigger stop loss using LotMultiplier
EA can hedge all trades of any currency pair when running only on one chart
EA can close initial trade before opening hedge trade
EA can be set to open unlimited levels of hedge trades. This means even hedge trades will have hedge trades
EA can re-open initial trade when it is closed in loss or profit
Two Lot Multipliers available. One for hedge trades and the other for initial trades
Ignore initial trades with the lot size lower or higher than your specified value
Trailing Stop and Breakeven functions can be enabled for initial trades
EA can use LotMultiplier and multiply the initial trade lot size by this value to get the new hedge trade lot size. This parameter allows you to have a bigger or smaller lot size of the hedge trade.
EA can be set to re-open hedge trade when it is closed in loss or profit. It means that EA will open new hedge trade with the same settings as the last one if the current hedge hits SL/TP or it is closed manually in loss or profit
EA can use hidden pending orders (trade entry can be hidden from the broker). This means that EA will draw a horizontal line on the chart where hedge trade should be opened and monitor market price just to open market order when the price touch that line. This way your broker will not see hedge trade entry price, in other words, the broker will not see that you plan to open hedge trade at all
When you have hidden hedge trades you can set EA to move the entry like a trailing stop. EA will move the hidden hedge trade line along with the price keeping the distance of X_Pips. This is kind of "trailing the hedge trade".
EA can be set to hedge all trades of any currency pair when running only on one chart.
EA can be set to ignore initial trades and not open hedge trades for them if the lot size is lower/higher or equal to the specified value.
Works on MT4 Renko charts.
How to use Hedge EA Advanced?
Once started EA will start monitoring the current chart for the new trades
EA will ignore any trades opened before it was started
Once EA will find new trade opened on the current chart, it will place an opposite pending order (hedge trade) in the distance set by the X_Pips variable
EA will use initial trade stop loss and take profit on the hedge trade
If there is no stop loss or take profit on the initial trade, hedge trade will have no stop loss and take profit too. If you set SL and TP on the initial trade later, EA will set the same SL and TP on the hedge trade automatically
Hedge trade Stop Loss and Take Profit can be overridden by StopLossPips and TakeProfitPips values
EA will delete pending order (hedge trade) if the initial trade is closed
If hedge pending order is triggered, EA will not close it in any case unless Stop Loss or Take Profit is hit
You can close/delete hedge trade at any time manually
EA will use initial trade lot size for the hedge trade, but this can be overridden by FixedLotSize value
Trailing Stop and Breakeven functions will work only on hedge trades
For a more detailed description of the EA settings and features, please download the Hedge EA Advanced instruction manual.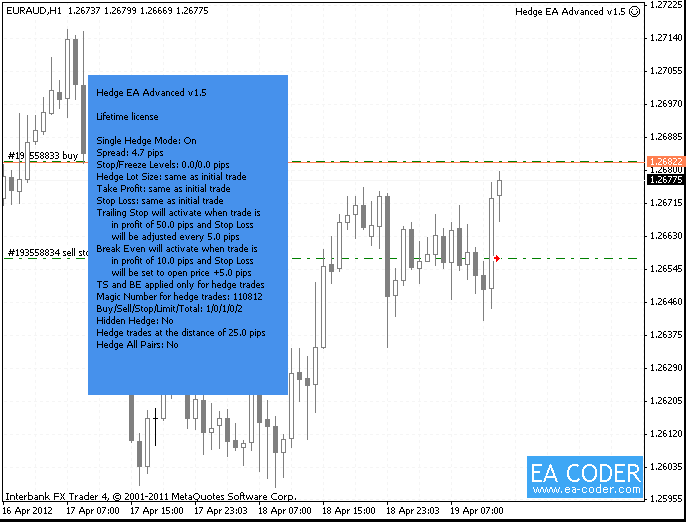 The user can set the level in pips that they want to activate a hedge trade keeping the same stop loss and profit levels as the original trade or different levels can be preset.
If the hedging trade is never triggered and the original trade is closed; the hedging trade will automatically be deleted from the system.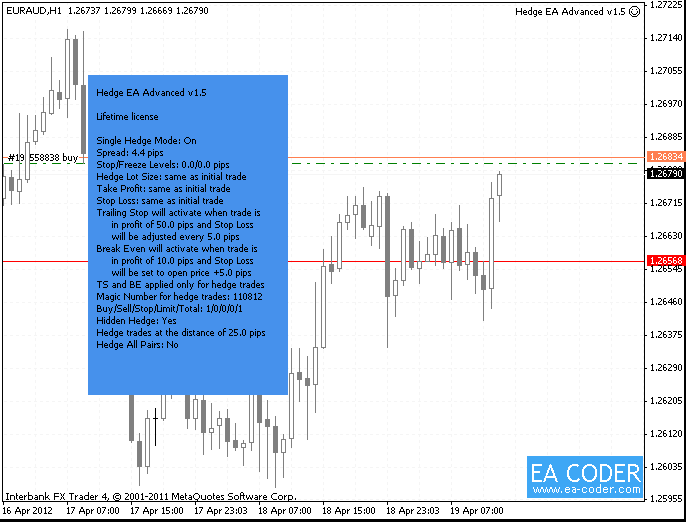 In the above image, you can see the "hidden" hedge prepared. The red line below the BUY trade at the distance of 25 pips will act as a hidden hedge trade. Once the market price will touch that line the SELL market order will be opened immediately. The line will be removed from the chart if the "hidden" hedge trade is never triggered and the original trade is closed.
In the example above we see how the Hedge EA continued to open hedge trade for each position that originated from the initial BUY order. Each additional position (hedge) had a bigger lot size so when the initial trade hit a take profit of 80 pips the whole bucket of trades was closed for a profit. It is quite risky to open hedge trades at a bigger lot size until eventually you hit take profit, but if you manage risk properly this might become a quite profitable trading technique if traded during hours when the market is most active.
License information
Personal license works on an unlimited Real MT4 accounts and unlimited Demo MT4 accounts on a single computer/VPS. It means you may install the software on your desktop and notebook computers, but use it only on one computer at the same time. EA is not permanently locked to a computer or MT4 account. You can personally transfer the license to another computer/VPS or MT4 account at any time.
VIP license works on an unlimited number of any Real/Demo MT4 accounts on max 5 computers/VPS at the same time. It means you may install and simultaneously use the software on 5 computers/VPS as long as they belong to you.