Compulsory Elements of a Forex Trading Strategy
If real estate worldwide known slogan is "Location, location, location", financial markets slogan should be "Strategy, strategy and strategy execution".
No matter how you choose to trade, manually or automated, a winning strategy is vital. Trading without a clear set-up will lead sooner or later, but most of the times sooner, to financial losses. Even if your preference is to execute your trades based on expert advisors, you still have to use a strategy and be aware of the parameters that rule behind these automated applications. There are other options, of course, like buying a trading system and use it blindly, but is an "opportunity " I don't consider  reasonable for the simple motive, that finally this choice will cost you much more than you are willing to pay and for sure your benefices will convert into losses.
Trading Forex , or in financial markets in general, is not just a superficial activity that could be done in a quarter of an hour, it's a professional activity like any other and involves lots of time, study, practice, years of practice and money.  After learning the basics, the first great challenge is to find, establish and implement a successful trading strategy that fits your expectations and your character. This is the major cause of losses experienced by beginners: lack of strategy, they trade chaotically and inevitably their investment disappear. It's not an easy process, it might take some time, years maybe, but either you commit to do whatever it takes to achieve the goal of being profitable in the markets, either you renounce and stay out, midway doesn't exist.
Traveling around the world starts with the first step, in the same manner success in financial markets starts with establishing the strategy.  Defining your own strategy depends on many variables, which should be clarified one by one.
Initial investment
First of all clarify which is the amount of money you have at your disposal to trade with. If you can start with several hundred, several thousand or tenth of thousands, your strategy should take into consideration this parameter. Anyway the experience proves it's a good idea to start with a small account first, no matter the amount you want to invest from the beginning. The explanation of this recommendation is that trading with real money will imply emotions, and these emotions will be another great challenge on the way to success in trading. Till you will arrive to master your emotions, they will have a deep impact on your trade; if you are impulsive for example, you will enter in transactions either too soon either too late, or close them too soon or too late, not respecting the requirements of your strategy, and the market will be there to penalize you. The unprepared are always loosing. So, start small and test your emotions, verify your weaknesses and take your time to solve them, but trading small amounts of money; because while you discipline yourself you just might lose all your capital within the learning process.
Time frame
Decide which is the time frame you are going to place your trades on. Of course you should verify all of them, or at least the higher ones, for example if you place your orders on H1, you should before executing a position verify also H4, Daily and Weekly, and also M30 or M15, because a small correction may appear and blow off your emotions meanwhile.
Time frame is important and should be in accordance with your strategy and preferences. If you enjoy scalping then M1 may be your favorite, or depending on your schedule you may prefer a higher time frame in order not to be all the time in front of the computer or keeping an eye on the charts. It's important to back test several time frames till you decide which is more appropriate for your style and to the other elements of your strategy.
In the chart below you can see the price falling down on a 5 minute time frame chart, but the daily chart shows that it's likely just a small dip down. It is clearly seen how price is going up for the last few weeks.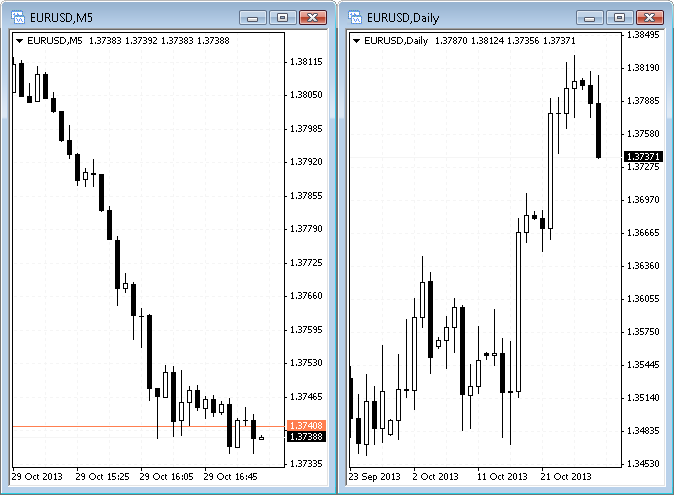 Dimension of lot
The dimension of lot should be in accordance to the dimension of your planned investment and also to your appetite for risk. If you know yourself as adrenalin devoted, then you should minimize the dimension of the lot.  Also always respect the money management rules and never enter in a transaction with more than 5% of your equity; commonly you should use maximum 2%, and only in exceptional cases 5%, when you feel very confident and consider you have an edge to place the order. Always adjust the dimension of lot on the equity you have and the time you preview for the order, if it's a position you plan to maintain for several weeks then you should start with the minimum lot admitted and pyramiding after the price action takes the direction required. Martingale rules are to be avoided, especially when you had several negative transactions, doubling the dimension of lot when you are losing is strait way to disaster. When you lose you don't expand the dimension of the lot you cut it or maintain it. You should increase the dimension of the lot just in case you had consistent gains and the money management rules allow you to.
In the image below you can see how $12,000 account is lost in only 7 trades using martingale system. Actually the last trade would not even happen as there would not be enough money in the account.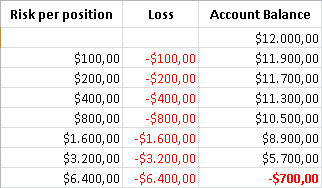 Composing elements
Identify the elements that will compose your strategy, no matter which they are: indicators, candlesticks, trend lines, breakouts, etc. Make sure to choose a reasonable number of elements, not just a couple or tens. If you plan to use a strategy based on indicators for example, don't use more than three, because the more they are the more complicated your strategy will be. Take into consideration that the strategy should be simple, the charts shouldn't be loaded, they need to be easy to read and classify, so you can easily decide based on them. Also using elements from different categories is advantageous, and their combination may be more favorable. Always try to have the confirmation of a combination of elements, not just one. None of the instruments used in trading is infallible, so never use just one of them.
Entry point
Write down specific rules or conditions in order to properly establish when you are going to open a position. A set of maximum five rules should be enough; refine them by back test and real time experiments in order to have the best combination. Take your time and observe, experiment your rules to confirm their efficiency.  Once you have settled them, respect them exactly, do not ignore any of them and take a position just in the moment that all your conditions are accomplished, not earlier when they are just about to be in the right position; wait for confirmations. You have to figure out every time the right moment to open the transaction, not too early, not too late, in either cases the market will be there to show you, you didn't act properly.
Exit point
It is as vital as the entry point. The exit point implies also a set of rules, fewer than the entry point. Establishing the exit rules as well require back test and practice, till the final decision. Exit rules are even more important than those of the entry point, because you are already running the transaction and the emotions are at their strongest level, making the correct exit decision is most of the time the one that makes the different between profit and loss. "Cut the losses short" is the toughest part of trading, as you have to fight your feeling the hope and the greed, two great enemies of your profits. The more experienced you become, the more you will arrive to master your emotions and detach yourself from the trades.
Trading instruments
Pick wisely the instruments you intend to trade and follow, and which are compatible and working inside your strategy. The selection is yours, but be careful in choosing instruments that are very liquid, don't require large spreads or equity. Your selection should include not more than ten instruments.
General rules
Don't waste valuable time, effort and money to verify yourself already confirmed rules like:
trend is your friend
let your profits run
cut losses short
use stop lose
Take them as they are, use them and follow them, corroborating them just to prove yourself they are really valid, will cost money, so spear this effort and direct it to something more constructive.
As you become more experienced you will find a set of general rules, which should be always respected beside the principal rules of the strategy. These regulations will as well impact on your profits and most of the time will help you in making the best decision for that particular trade.
Some of them might be:
Trend is your friend. Trade in the direction of the evolving trend; your chances of having a winning position are better. Correct identification of the trend is a huge edge. Of course trades against the trend could be profitable, but you should be aware you are against the trend and that the chances of having an important movement are quite small.
Use stop loss. Stop losses should be always used, as they are a protection against unexpected spikes or moves of the market, moreover if you are not supervising the trade. For the protection of your capital, these risk limits need to be used, otherwise you may find yourself in a more precarious situation. Using the stop loss is most of the time like choosing the "small of the evils ".
Cut losses short. Meaning if the transaction turns against you don't move the stop loss, if the conditions of exit are present don't ignore them, act – close the position. Accept your forecast was wrong and fight the hope "it might return", as this happens just rarely.
Don't keep trades opened over the weekend.  Because gaps might appear and your stop loss will be useless. Keep trades over weekend just in exceptional cases when a variation of a couple hundred pips has no major impact on your equity.
Stop trading if you suffered a loss for that day. When you already closed a negative position, don't start another one, take a break, give yourself the time to dissipate the emotions and judge better the market situation in a future moment.
Execute perfectly the strategy. Respect all the regulations that you create and primarily the rules of the strategy. If the existence of the strategy is compulsory, its perfect execution is again compulsory. If you disregard a single detail, this one will influence your profitability. You have to learn, if you are not by default, to be a very very disciplined person, that always respect the rules, manages its feelings, ideally doesn't have emotions anymore;  and this happens but after years of trading. There is the possibility of short cutting all these troubles with the execution, by the benefices of the automated transaction, but this path has its own challenges and finally we got to admit the trading cannot be integrally realized by expert advisors, human supervision is needed. And since human intervention is still a demand we are back in front of the necessity of mastering our emotions.
Designing a trading strategy will take time, in some cases years, but it's mandatory in order to be profitable. You could have one strategy or more, but at least one is necessary. The foundation of the successful trading is the strategy, so pay the according attention to this component of your mission. The strategy and its execution make the difference between gain and loss, and this frontier is extremely thin and influenced by lots of apparently insignificant elements. Master them all, and you will be a winner in the markets. And sometimes in the future you will eventually arrive to the level that all of us dream of when we implicated in this activity, spend an hour daily for consistent gains. But there is a heavy process among the two moments.
Conclusion
Many traders are struggling for years without knowing why they don't succeed. Well, first great error is not having a strategy; second major is not respecting it. So if you are not yet profitable, be sure you will find the fail within these two areas. So which one is it? Would you mind sharing that with us in the comments section below?