10 Essential tips to find the right Forex trading signal source
If you are looking for a way to generate trading signals these 10 tips will guide you to take the right path. I use most of these techniques in my trading signal business, but this information will be helpful for any Forex trader.
If you have been around the Forex market for any length of time then you know that it can be one of the most lucrative professions in all of the world.  Unfortunately, it can also be one of the most difficult professions in all of the world.  It is not a coincidence that these two phenomenon go hand in hand.  The more difficult something is, typically the more opportunity there can be in it.  And vice-verse is also true.
With foreign exchange trading you will find that the opportunities are limitless and a professional trader can literally write their own paycheck to the tune of seven figures or more.  The record traces back to George Soros who profited approximately a billion dollars (yes, that's billion with a B) in a single day.  He massively shorted the GBPUSD pair which caused the British pound's value to literally crash.
In this move he earned himself more money than most people would ever see in 10 lifetimes and also subsequently earned himself the moniker: 'the man who broke the Bank of England.'  Successful currency traders—even individual traders who are not trading fund money—can earn themselves tens or even hundreds of thousands of dollars per month.
Forex Trading is one of the most difficult skills on the Planet to master
But even though there is such a tremendous amount of money that could POTENTIALLY be made, the vast majority of traders (the number is estimated at 95%) will fail to ever trade profitably and consistently.
So what are we as unsuccessful traders supposed to do to make money with this behemoth known as the Forex market?  Should we just give up and assume that we can't earn money from it?  Should we continue to lose money month after month after month?
Perhaps the future does not have to be so bleak.  It is possible to learn how to trade successfully, though this may take many years to accomplish.  Don't realistically expect to start earning big money your first couple years in the business.  And if you are earning money consistently within your first two years then consider yourself a genius in the markets because a very few people are able to accomplish this feat.  If this is you, pat yourself on the back and celebrate with an ice cream because you have done what very few others have or ever will do.
Are there any alternatives to learning how to trade without years of learning?
While you should never stop learning how to trade yourself, there are some very plausible alternatives to the idea of spending years and years in study and trial and error.  There are solutions available through technological advances in the Forex market that will allow a trader to profit automatically and consistently.  You can use this technology to borrow from successful traders and successful trading systems.
These solutions present a feasible alternative to the grim reality that 95% of traders will fail to make money.  What if we could all latch onto those systems (or traders) that do consistently turn a profit?  In theory it is a golden idea and one that potentially carries with it several zero's (if you follow my meaning).
Using automated technology to trade consistently and profitably (or leverage into a business)
It should be mentioned that finding an automated solution to profitable trading is also quite a task.  Just as it is very difficult to trade profitably as an individual trader it is also quite difficult to find automated solutions to help grow your account's equity.  Fortunately, however, it is easier to find a good system to borrow and benefit from than it is to learn how to trade manually yourself.
For some also it is a matter of time.  Some traders simply do not have the time to learn how to trade and others do not have the time to do the trading themselves; the constraints on their time are too great and they do not have time to sit in front of a computer monitor for hours each day.
We can use the technology that is available to us as Forex traders to help trade profitably.  There are a number of systems and a vast number of resources that are available to someone who is looking to automate their Forex income month by month.  In this article we are going to be looking at several different ideas that will help guide you down the road to automated and profitable trading.  The hardest part is in finding these golden geese that can help us trade profitably.
Here are my 10 ideas on finding profitable and genuine trading signal sources
In this article I share with you my ideas on finding profitable and genuine trading signal providers. You can use them to invest into Forex or even start your own Forex trading signal business.
My 1st idea is to find best Forex robots and signal services on www.ForexVerified.com. It is a 3rd party independent review website focused on automated trading systems.  This is a test service that shows the real trading experience with various Forex robots.  They do a lot of the hard work for you so you don't have to buy all of these different robots out there and test them blindly yourself.
This is a good website to find some general rankings and results of popular Forex robots.  But this is not a site that should be used all on its own.  You should do a large amount of research and diligence in order to investigate the different robots mentioned on this site.  With any robot you are considering you should do thorough research which includes reading reviews by a real users.
You should also find third party verification sites like www.myfxbook.com which will help you to analyze the ins and outs of each robot.  Using myfxbook.com is a wonderful site that will help you look at the past performance and historical trades of the robots.  It will help you see some arrays of the performance of each currency that the robot trades as well as the times of the day and base of the week that are profitable and not so profitable.
Using verification tools like myfxbook.com to research trading systems' performance should become like second nature to you while investigating any automated Forex systems.  Do not seriously consider any robot or system that cannot back up its claims for earning money.  It is easy to falsely claim that something makes money without backing it up with real, hard proof.
Be wary of demo trading accounts only used for verification
Be wary also of those systems that you see verified with myfxbook.com which only trade demo accounts.  You will want to look for those that back to their numbers up with real money on the line.  With aggressive settings it is possible to post positive results for a short amount of time.  Look for lengthy history and a steady performance record.  Avoid robots with large drawdowns (periods of losses) and favor those with smaller returns and smaller drawdowns.
Above all, look for consistent returns, not high-flyers that come crashing down month by month.  Safe and steady really can win the race when it comes to trading.  Remember, you're trading with your hard-earned money.  Forex trading is one of the fastest ways to make money, but also one of the fastest ways to lose money on the planet.  Remember that as you review the performance results of the robots and systems you find.
My 2nd idea. If you are interested in Forex breakout trading you could take a look at my Range Box Trader software as it can trade many breakout trading systems according to your settings. There is also a basic version of Range Box Trader available to try it out at no cost.
Range Box Trader is an Expert Advisor application that initiates orders on a price breakout that matches a time and price range-box. After you set the start and the end points of a time range, EA will draw a box between the highest peak and lowest bottom prices within that time range. When a price breaks through that range at either side, the Range Box Trader will open a trade in that direction.
Once it has been set up, the EA will draw and trade a range box every day. You can setup this EA on multiple currency charts and use it to place regular and hidden pending orders depending on the type of trading you would like it to do for you.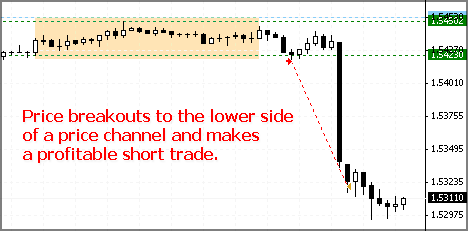 Using automated systems like this is a great way to leverage your time if your current schedule does not allow you much time to trade manually.  People use technology every day to make things easier so why should you not use forex trading technology to make your trading life easier as well?
My 3rd idea is great for trend traders who use trend lines to help identify entry and exit points. If you are this type of trader then you will definitely find the Trendline Trader EA to be a great assistant.  It is the perfect compliment to any trader's toolbox and will give you a clear advantage over the markets you are trading.
Trendline Trader is an Expert Advisor application designed to initiate trades on the Metatrader 4 platform.  It monitors price action with regards to trendline breaks.  This trade assistant will only place trades when  price breaks through a trend line drawn by a human trader (or any 3rd party robot).  It doesn't matter who draws the trendlines as long as they have proper names.  This robot will not draw the trend lines on its own but instead respects those that you as an intelligent human trader draw onto the charts for it.
The robot that follows your trendline rules and does all the other work for you
Once the trendlines are identified by Trendline Trader, the application will monitor the market price to detect a breakthrough. If you trade currencies in the Forex market using trendlines, then this is a must-have application for you.  Imagine the free time you will get while Trendline Trader works 24 hours a day non-stop.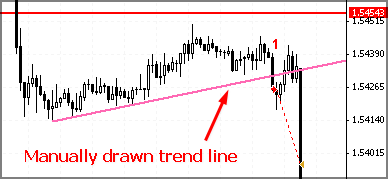 The beauty of it is that this EA allows you to decide how your trendlines should be drawn, what time frame and currency pair you use and what trade settings you operate with. You have complete control over your trend line trading and this application will be your sidekick to do the work for you while you enjoy the rest of your life.  (Do you remember what free time is?)  😉
My 4th idea is to go to Google and search for the top 10 Forex robots and other signal providers that make money. This is the easiest signal source that you can get, but you will probably face copyright issues, so be sure to ask permission from the author before you use their software to generate trading signals.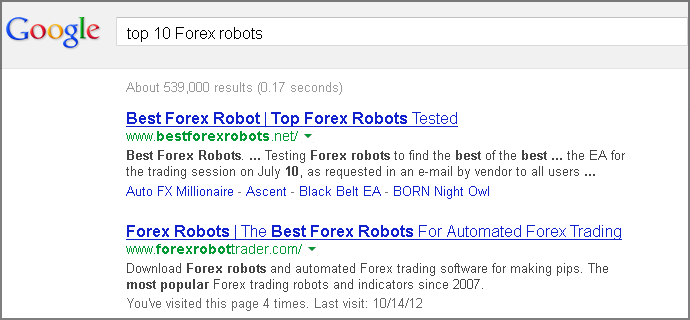 You will find a large number of robots by such a generic search, but remember the marching orders: test, test, test.  Due your research and diligence and make sure to run each robot on a demo account first.  Evaluate the ins and outs of the system before you ever put real money on the line.
My 5th idea is to look for profitable systems and traders on www.myfxbook.com. This is a great place for every Forex trader. Any trading account verified by MyFxBook.com is considered to be genuine, but the best ones have examples using real capital and not just demo accounts.

When you analyze any trading system and its trading history on myfxbook.com, make sure it does not hide anything and all of the data is public. If some of the information is private then be cautious as the provider may be hiding bad performance results like huge drawdowns. All trading history data and "open trades" list should be open for public. Private "open trades" list is a huge red flag because this way providers can hide "open trades" that are in loss. The account growth may be a good looking on the chart but negative equity due to large rolling of unrealized losses.
Lot sizes should be public as well. Be sure to avoid the type of trader that loses all day and then wins it all back with couple of even one trade that is six or eight times the normal size. Also avoid a trader that uses martingale or equivalent money management strategies. If you find a signal provider that has positive money gain but negative pips earned then my best advise is to keep away.
There is a also a new type of auto-trading tool available from the folks at myfxbook.com which you can find here at www.myfxbook.com/autotrade.
Make sure you carefully compare pips vs profits
There is an important note to include at this point as you research the results posted on sites like myfxbook.com.  It has to do with pips vs profits.  It is entirely possible that a signal service can have positive pips but yet have negative returns financially.  This typically can happen with signal providers who close partial positions on trades.  (I am unfortunately familiar with this from the personal experience.  A friend had bad experience with a deceptive signal service that boasted thousands of pips but never consistently posted positive equity gains.)
To explain clearly, let's assume that we place a trade using 1 full lot.  The trade goes in profit 20 pips and then we close half the position [0.5 lots] for that 20 pip gain which is approximately $100 gain.  Then the trade goes up another 20 pips and the rest of the position is closed for 40 pips, which is $200 gain.  The total on the trade is $300 profit.
Well, in the tracking systems this will be recorded as 60 pips positive.  But as you can tell, the original trade was for 1 full lot.  If you looked at the 60 pips gain you might wonder why it was not closed out at $600 gain, since it was a full lot size where 1 pip generally equals $10.
Account negative but pips positive warning
Let us also assume that the next trade has a 40 pip loss with that full lot size.  That is a $400 loss.  So in total, here is where the account stands: 60 pips gain, 40 pips loss = 20 pips up.  But the account equity is negative $100.  This is the mystery of the positive pips but yet having an equity loss.
You will see this out there on the internet.  Some signal providers are brilliant marketers and they are good at carefully disguising this fact.  They have positive pips, sometimes hundreds or thousands of pips per month, but yet if you will dig deeply then you can see that their accounts are consistently negative on equity growth.
Sometimes this is very difficult to see, but do all the research you can ahead of time.  Make sure that you see what's really going on under the surface of any past trading results.  The more research you do the better.  Even at first glance this can be a hard discrepancy to uncover, but simply study the trade history and see if the service provider is closing some trades with partial positions.  And let me explain that there is nothing inherently wrong with partial position closes, just that you must be careful to understand how they relate to overall pip results.
My 6th idea is to always keep looking for new signal sources and never stop. For example, I have several VPS servers with multiple Forex Expert Advisors that are trading 24/5. I constantly test various settings and optimize for the best performance.
Make sure you test each robot for at least 3-6 months. Be patient, many quit testing after few weeks and miss the opportunity to find the best performing Forex robot.
The summer, for example, is sometimes a difficult time in the forex world.  The summer volume is less than most other times of the year and some trading strategies do not fare as well during the summer.  You will also find that the currency markets are very sporadic from about the middle of December to the middle of January.  Some people call this the 'silly season' because the markets behave in 'silly' ways.  If you are testing any robot during these times then keep this in mind.
Test and measure your robot performance by hours of the day and days of the week
As you test, you will also want to look at the patterns of your robot/strategy over the various days of the week and hours of the day.  If you are not familiar with it, myfxbook.com does a fantastic job of breaking these details down for you in the summary section of the system's performance reporting.
Analyzing how well the strategy has done based upon the hours of the day and the days of the week will give you incredible insight into how you can make the performance better.  Many strategies, for example, work very well on Tuesday through Thursday.  Monday, however is typically not as good as Tuesday, Wednesday and Thursday.  Friday typically is the worst trading day of the week with traders on average losing a higher percentage of their trades on Fridays.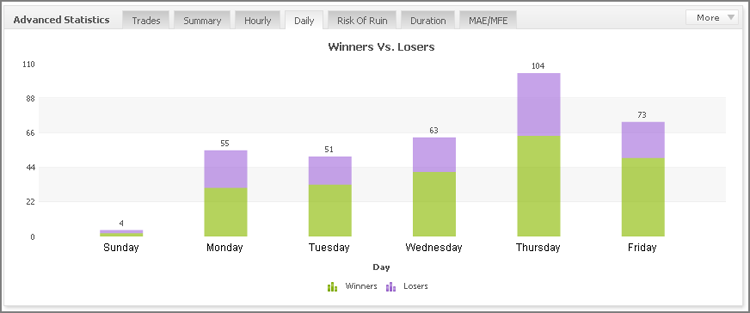 Using this example, you might be able to improve the performance of your robot simply by turning it off on Fridays or only letting it trade on Tuesdays, Wednesdays and Thursdays.  You may also find that certain hours of the day are much better than others.  Trading the overlaps in the major markets may prove to yield the best trade results.  Use myfxbook.com to check out the hourly performance summary as well as the daily and you will be shocked by what you learn.
My 7th idea would be to look for Forex traders on web sites like http://pamm.hotforex.com/ or http://www.fxopen.com/Pamm/.  Usually those are broker verified account managers and I am sure you could make a deal with them.
Once again, apply diligence and research.  Study their performance numbers and run a few of them on a demo first if you are able.  Sometimes it can be difficult to personally contact some of these sites or the providers featured on them but it may be worth a shot if you are building this into a real business.
My 8th idea is to look for profitable traders on Forex forums and www.elance.com. You could find yourself a partner for the Forex signal business or you could hire a trader to generate signals.  You might be able to hire a programmer to build you a successful trading robot also.  Keep your mind open to lots of new ideas.
You may also find some good programmers using www.Odesk.com or www.freelancer.com. These are great sites for finding talented programmers.  Developing a robot can be expensive however.  Make sure to plan your budget carefully if you are going to attempt to build a robot yourself (with the help of a programmer).  It is a great learning experience but can be an expensive one.
If you decide to program your own robot or hire someone to program it for you, don't be discouraged if you don't get it right on the first shot.  Very very few people are able to program a profitable robot to begin with, let alone the first one that they develop.  Again, be paitent and continue to test, test test.
My 9th idea is to go to www.ForexPeaceArmy.com and read reviews about different robots and automated trading strategies.  These are real reviews that are strictly policed by by the owners of the site.  They want to ensure that it is a trusted source for quality reviews and information about trading strategies.  You can find some gold nuggets on this site and I strongly advise you to bookmark it and add it to your research collection.  If you don't find many positive reviews here about a strategy or robot you are researching then it may be worth taking a pass on.  The best strategies will be reviewed here.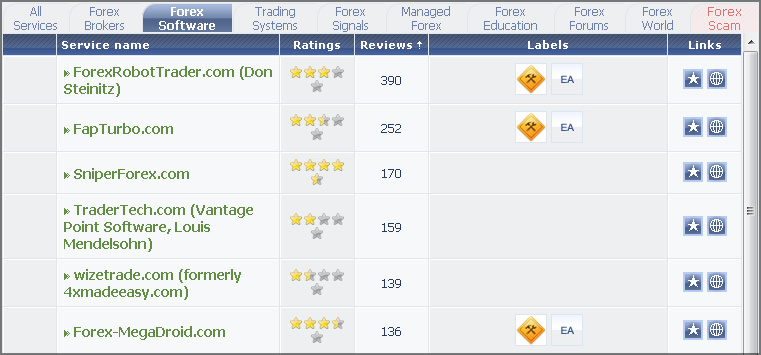 As you conduct your research on FPA (ForexPeaceArmy.com) you might want to take a look at the reviews about trading signals copier service I've developed. Research the robot there and see what people have said about their experiences working with me and from their results with the trading strategy. It is difficult to get a review on that site, even from a satisfied customer!  So therefore if you see a review on that site you can be assured that it has validity and can be trusted.
There are several good spam enforcement policies in place on their site and several hoops to jump through before anyone can place a review.  Because of this it is a highly trustworthy site.
If you're curious, you can find my profile there too. It took me more than a year to get my first 20 reviews.
http://www.forexpeacearmy.com/public/review/www.ea-coder.com
Each of those people are my customers and I had to deliver superb services to them to get them post a review.  I take great pride in serving people well and providing outstanding customer service.
My 10th idea is to always ask for a trial period when purchasing any robot or at least make sure there is a rock-solid money back guarantee. The main reason why robot owners will not allow for a trial is because they know that the robot will not work well for others.  Look always for the trial or the risk-free guarantee.
Some robots are very sensitive to spreads and if you have a broker with a larger spread than what the robot owner has then the results can be adverse.  It should also be noted that sometimes robots will perform well for a while but then due to market changes their performance begins to slip.
Sometimes a winning robot will simply start losing consistently because of the way the markets have shifted.  For this reason, as well as several other good reasons, it is always a good idea to continue to test things out and monitor them closely.  Doing so will give you the best chance overall for success in the foreign exchange markets using robots or other automated trading solutions.
Become a Forex research scientist
I hope that you will use these ideas to help increase your income from the Forex markets.  There are a number of ideas here and you don't have to use them all in order to be profitable.  The more research you do the better your chances of success, in my opinion.  Become a 'Forex research scientist' and test different robots out (on demo accounts always of course) until you start finding things that work best for you and your account.
Ambitiously becoming a trade signal provider
If you are more ambitious then perhaps you are looking to make a business out of Forex signals and hence your interest in this article.  If that is the case then you need to do twice the research and twice the testing.  But it is indeed possible to partner with one of the many existing signal providers or robots or professional traders out there and bring their signals to the market.  You can stand to earn some very good money by doing so and sharing these services with others.  Just make sure that you monitor everything closely and with a great deal of patience.  Test, test, test and test some more.
Share your ideas and tell us your story how you are looking for profitable trading software. Or maybe you have already found one?
[mailchimp-article-newsletter]