Local Trade Copier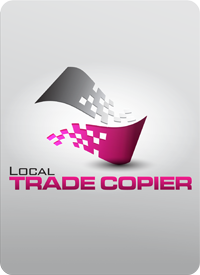 What is Local Trade Copier?
The Local Trade Copier (LTC) is a pair of MT4 Expert Advisors which copy trades and pending orders between multiple MT4 accounts, when they are located on the same computer or VPS server. The software can be used to duplicate accounts in one-to-one, one-to-many, many-to-one and many-to-many scenarios, and it gives a lot of options to filter trades, which makes it very useful among account managers and retail traders.
This software is designed for the Metatrader 4 platform and can be used with any Forex broker, any MT4 account and any currency pair.
With the Local Trade Copier you will be able to copy the trades from one Metatrader 4 platform to another as soon as they happen. This is the software that can help you become a great Forex account manager as it can duplicate multiple master accounts to any number of customer accounts. You won't believe what Forex trading experience you will gain while experimenting with its reverse trading method; you can connect multiple master accounts, apply various trade filters and pass the remaining trades to your customers' accounts.
Why you need Local Trade Copier?
Forex trade copy actions are crucial to Forex account managers. No human can duplicate trades between many managed accounts faster than the MT4 trade copier software, making this is a must-have tool for anyone who does account managing.
Forex Account Managers can use the LTC software to copy their master MT4 accounts to the MT4 slave accounts of their customers. This eliminates the need to open the same trade on multiple accounts manually; the trade copier software will do it automatically.
With this trade copier software you will become an independent account manager.
If you are a Forex account manager, the Local Trade Copier is a must have software for you or your business. If you are using PAMM services then trade copier may not be better solution, but with this software you are not locked in to a single broker. You can copy trades between multiple MT4 brokers and manage accounts for anyone who has an MT4 account.
If you're a retail-based Forex trader and have investor password access to any MT4 account, then you can copy trades to your MT4 account and have the same trading results. For example retail traders can copy trades from their signal provider's MT4 account using an investor password. The server EA does not login directly to MT4, but you can run your provider's master account on your computer or VPS server in read-only mode using an investor password to receive the trades.
Retail Forex traders can use our MT4 trade copier when they find a losing trading system or Forex robot. With the reverse trading mode you can set the Local Trade Copier to duplicate trades in an opposite direction. In these cases, the losing BUY trade on a master account will be a profitable SELL trade on a slave account. The same goes for losing SELL trades, on a slave account it will be reversed to a BUY trade which will be a profit.
Forex Account Managers may also use these reverse trade copying schemes for customer accounts.
With our MT4 trade copier you can duplicate an unlimited number of Metatrader 4 accounts from any Forex broker, of any type or account size. Give yourself more free time by trading only your master MT4 accounts, while the trade copier EA will work for you 24/5 on your VPS server, copying trades to your customer accounts. Don't bother yourself re-calculating lot size for the slave trades; our software will do that automatically, following your master account risk percentage and adjusting it to each of the slave account sizes individually. Make use of many of the LTC software features to make your account manager business even more professional.
Local Trade Copier features
Can copy all trades from any number of master account(s) to any number of slave account(s)

Now supports "Partial Close"

Works on Oanda Metatrader 4

Trades can be copied from any Metatrader 4 account including investor password accounts
Master and slave accounts can have different account balance
Take Profit and Stop Loss levels can be counter-changed (reversed)
Take Profit and Stop Loss Multiplier technology
You can choose which currency pairs you want to trade and those you want to ignore
EA can copy pending orders as they are or only when they gets triggered on master account
Pending orders are copied with Expiration value if it exists
Copier is very fast because it synchronize trades 2 times every second
LTC does not use internet which makes it even more faster
Can handle different currency pair names between master and slave accounts

Intelligent Error Handling

technology
Can copy trades between different Forex brokers
Can copy all trades whether they are triggered manually or by another Expert Advisors
Compatible with all Forex brokers including ECN, DD, 4 and 5 digit brokers
Does not require any additional software

Smart Trade Identification

technology
Compatible with all Windows OS versions
EA is designed for Metatrader 4 platform
Works just as well on VPS as it does on any computer
You can shift entry price by certain amount of pips on slave account
For more detailed description of the LTC settings and features, please download instruction manual.
LTC Light v2.0 manual
LTC Personal-Manager-VIP v2.0 manual
Software is not locked to the MT4 account numbers and you are not required to contact us if you want to use software on different MT4 account(s) later. 1 master or 1 slave means that software can be used only on one account at the same time on the same computer/VPS.
Download Local Trade Copier Demo
LTC Demo version copy speed and trade delivery methods are exactly the same as in the Personal, Manager or VIP version. Software is limited to work only for one month and it has only basic settings. Max two trades can be copied at a time only. LTC Demo will let you know if the copy speed and application environment is suitable for you.
Please feel free to request LTC Demo software by entering your email below

LTC Demo has only basic settings and is free to use for one month only on your Metatrader 4 demo account. You are allowed to use LTC Demo for testing purposes only that will help you decide if you want to purchase the software from www.ea-coder.com
How does this MT4 Copier work?
The purpose of the LTC is to duplicate the same trades from one (or multiple) MT4 account (master) to another (or multiple) MT4 account (slave). This process is called "Trade Copying" and with the LTC software you can do this in an easy way completely automatically. How many accounts you are allowed to "copy from" or "copy to" depends on the license you choose. This trade copier contains two Expert Advisors that should be attached to the master and slave MT4 account(s) and they must be online 24/5 in order to copy all the trades.
Minimum System Requirements
Windows 2000 / XP / Vista / 7
1.0 GHz or faster CPU
512 MB RAM (1GB recommended)
Modem/connection speed 36.6 Kbps or faster
We strongly recommend using a cable/DSL modem or other broadband connections for best performance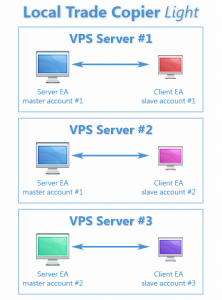 LTC
Light
was designed as a simple version with minimal settings and it is limited to 1 master and 1 slave account. This is the best choice for the beginners that do not want to mess with the advanced settings of the software and simply want to copy trades from one MT4 account to another.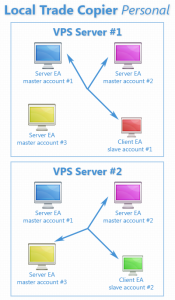 LTC Personal
was designed for the advanced traders who wants to copy trades from multiple MT4 master accounts to their MT4 slave account. This license allows unlimited master accounts and 1 slave account to be used.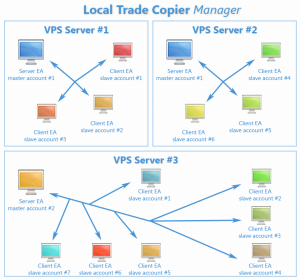 LTC Manager
was designed for the advanced account managers and traders who wants to copy trades from 1 master account to multiple MT4 slave accounts. This license allows 1 master and unlimited slave accounts to be used.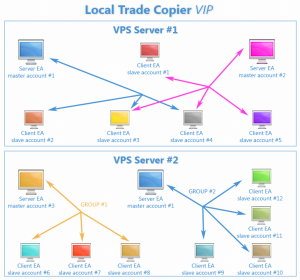 LTC
VIP
was designed for advanced users. This license does not have any limitations and you can use it on an unlimited master and unlimited slaves. You can even have different trade groups on the same computer. You can have a Server EA's sending trades to the Client EA's and then another Server EA can pick up those trades from the Clients EA's and pass them on to further Clients EA's. This may sound confusing, but you really have the freedom to copy the trades among multiple MT4 accounts with the LTC
VIP
license.
LTC Light
Price €50 EUR
1 master/1 slave
Minimal settings
LTC Personal
Price €200 EUR
unlimited masters/1 slave
LTC Manager
Price €300 EUR
1 master/unlimited slaves
LTC VIP
Price €500 EUR
unlimited masters/unlimited slaves
After the payment you will receive an email with the download link. If you do not receive it in 15 minutes please check your Spam/Bulk folders. If the email is missing please contact us by email info@ea-coder.com
Local Trade Copier example on MT4 account
In the screen shot below You can see the 2 Metatrader accounts running on the same computer.
First MT4 account will act as the master account (it can be investor read-only account as well) and the second one is the MT4 account that will act as a slave. You can have multiple master and multiple slave accounts running on the same computer/VPS to duplicate the trades to at the same time.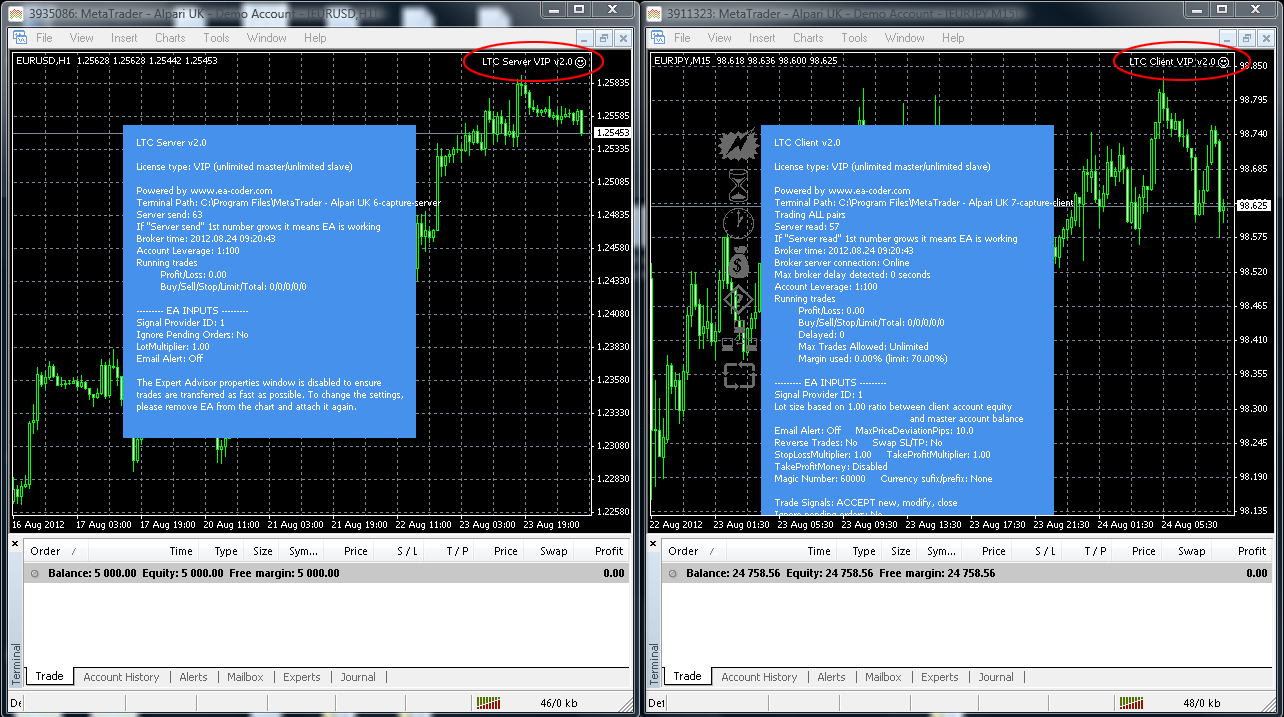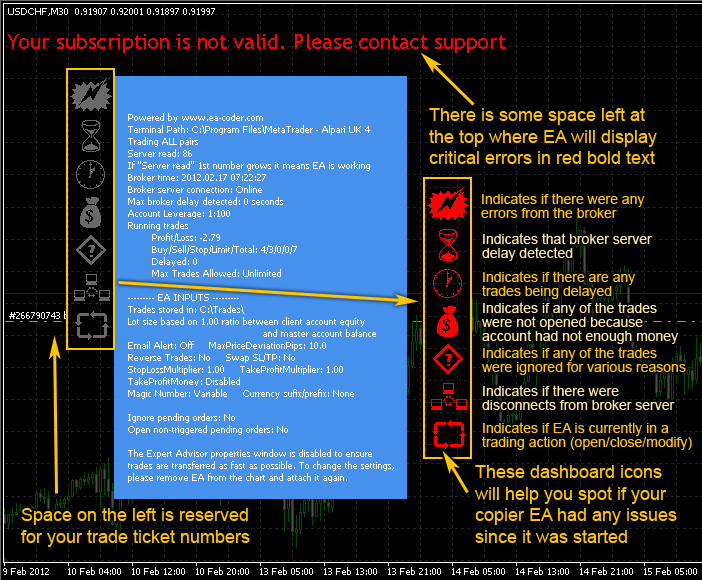 In the above screen shot you can see new
Local Trade Copier EA Dashboard
with the icons.
When the dashboard icons are gray they are inactive. When they turn red it means they indicate something like "trades delayed by broker" or "not enough money". Detailed explanation is available in the manual after purchase.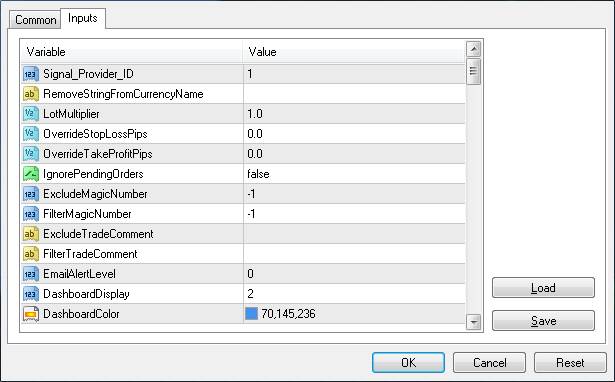 Here are the full LTC Server EA input settings.
Note: You can leave the default settings as they are and the EA will work within those parameters once initialized.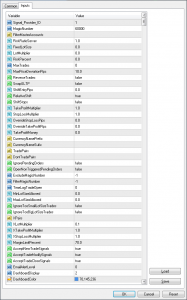 Here are the full LTC Client EA input settings.
Note: You can leave the default settings as they are and the EA will work within those parameters once initialized.
Trading foreign exchange on margin carries a high level of risk, and may not be suitable for all investors. The high degree of leverage can work against you as well as for you. Before deciding to invest in foreign exchange you should carefully consider your investment objectives, level of experience, and risk appetite. The possibility exists that you could sustain a loss of some or all of your initial investment and therefore you should not invest money that you cannot afford to lose. You should be aware of all the risks associated with foreign exchange trading, and seek advice from an independent financial advisor if you have any doubts.